JERUSALEM, June 21 (Xinhua) -- Israeli authorities said on Monday that they will increase the amount of land-borne goods that could enter the besieged Gaza Strip by 30 percent following the government's decision to ease the blockade against the Palestinian enclave.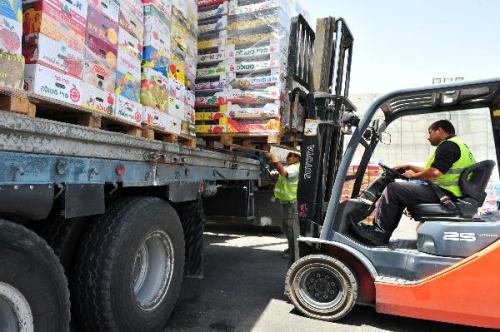 Israeli security personnel inspect goods at the Kerem Shalom Crossing terminal before
it is transferred to Gaza Strip, south Israel, June 21, 2010. The Israeli government
on Sunday announced the steps to loosen its blockade on the Gaza Strip.(Xinhua/Rafael Ben-Ari)
"We informed the Palestinian side yesterday that we are able to increase the amount of wares entering the Gaza Strip by more than 30 percent," said Moshe Levi, an Israeli army officer in charge of the Erez, a border crossing in northern Gaza.
"Following that, as time passes additional increases of the variety and amount of goods entering the Gaza Strip will be organized," Levi said at a news briefing.
Israeli government on Sunday announced the moves to loosen its land blockade against Gaza, but said it will continue the naval lockdown. The measures include expanding the inflow of goods and smoothen the procedure for people to enter or leave the strip.
The change of policy came after the May 31 incident, in which Israeli navy commandos attacked a pro-Palestinian international aid flotilla and killed nine activists on one of the ships.
The bloodshed brought about a chorus of criticism against Israel from the international community, who has since been pressuring Israel to lift or ease the Gaza siege.
Since the Islamic resistance movement Hamas' violent takeover of Gaza in 2007, Israel has imposed a tight blockade upon the enclave, incurring accusations from around the world that the siege has severely worsened the humanitarian situation of some 1.5 million Gaza residents.
Related stories