CANBERRA, June 22 (Xinhua) -- Chinese Vice President Xi Jinping met here on Tuesday with Australian Governor-General Quentin Bryce.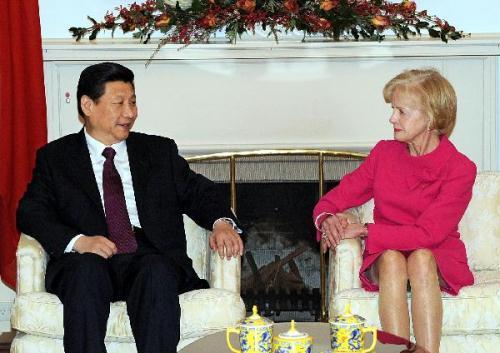 Chinese Vice President Xi Jinping (L) meets with Australian Governor-General
Quentin Bryce in Canberra, Australia, June 22, 2010.(Xinhua/Rao Aimin)
During the talks, Xi said he had exchanged views with a wide range of leaders and entrepreneurs in Australia during his trip, reaching comprehensive consensus on deepening cooperation on politics, trade, science and technology, education and tourism.
Earlier this month, Bryce herself had paid a visit to China, attending the ceremony of "Australian Pavilion Day" at the Shanghai Expo and hosting the opening ceremony for "Australian Culture Year."
Xi praised that such moves showed that the Governor-General attaches great importance to developing relations with China.
Xi said both China and Australia are two important nations in the Asia-Pacific region, and both share common interests in safeguarding the peace and stability in the region and pushing forward the regional and global economic growth.
The vice president said the Chinese government is willing to join hands with Australia to enhance dialogue, expand consensus, increase mutual trust and explore cooperation, so as to achieve more progress in developing bilateral relations and bring more blessing to people in two countries.
Bryce said Xi's current visit has conveyed important signal that Chinese people attach importance to the relations with Australia, demonstrated the depth of the bilateral relations and set the direction for future efforts.
Earlier on Monday, Xi and Australian Prime Minister met business leaders from China and Australia who attended a CEO roundtable meeting in Canberra.
Later on Tuesday afternoon, Xi and the Chinese delegation flew from Canberra to Darwin, the last leg of his Australian trip.
Related stories
Editor:Du Xiaodan |Source: Xinhua