St. John's, Newfoundland - As the oldest and most easterly city in North America, St. John's is a city with a harbor carved out of 500-year-old rock and downtown streets filled with multi-colored houses.
A walk along the waterfront of St Johns Newfoundland is rewarding as you
discover the history of St John's since its discovery in 1497.
FRIDAY
6:00 p.m. - Start your visit with Newfoundland cuisine at the Bacalao Restaurant. Order a Jiggs Dinner Cabbage Rolls, which is salted beef, carrots, turnips and potatoes rolled in a cabbage leaf, or a Cod's Tongue Salad as an appetizer. Bacalao, which means salt cod in the Mediterranean, offers a daily salt cod dish. The restaurant also serves local wines made from blueberry and partridgeberries.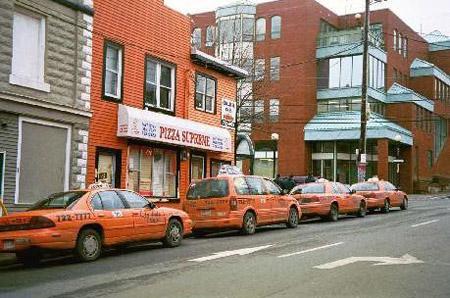 Taxi at St John's, Newfoundland
9:00 p.m. - Stroll to the cobblestoned George Street where traffic is closed to vehicles in the evenings. The street boasts the most bars per square foot in North America. The Trapper John's pub welcomes visitors to Newfoundland with a "screech-in" ceremony which involves drinking a shot of Screech, or rum, which is a traditional mainstay of the Newfoundland diet, and kissing a toy puffin.