JOHANNESBURG, June 22 (Xinhua) -- FIFA will wait to receive the referee's report from the World Cup match between Spain and Honduras before deciding whether to investigate Spain striker David Villa for slapping Honduran defender Emilio Izaguirre in the face at the World Cup.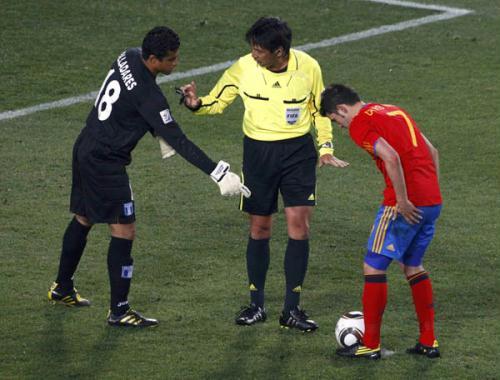 Spain's David Villa (R) prepares to take a penalty kick as Honduras' goalkeeper Noel
Valladares argues with referee Yuichi Nishimura of Japan during a 2010 World Cup
Group H match at Ellis Park stadium in Johannesburg June 21, 2010. (Xinhua/Reuters
Photo)
FIFA spokesman Pekka Odriozola said on Tuesday: "At the moment I have no information on that. It's too early to make a comment on that.
"First we will have to see the reports. Then, if need be, our disciplinary committee would have to have a look at the (television) footage and take a decision or come up with some more information on that."
Valencia star Villa, who moves to Barcelona next season, scored twice in the match and missed a penalty. He struck Izaguirre in the face as they waited for a free kick to be taken towards the end of the first half.
Japanese referee Yuichi Nishimura took no action but FIFA will need to establish whether he would have booked or dismissed Villa if he had seen the incident.
"My instinct was to stretch out my arm," Villa said after Tuesday's game, insisting the slap was unintentional.
Related stories
Editor:Jin Lin |Source: Xinhua