BEIJING, June 23(Xinhuanet) -- Recently, British photographer and lifelong kingfisher enthusiast Charlie Hamilton James captured a set of photos which recorded the daily life of a kingfisher family inside their nest, according to British newspaper Daily Mail.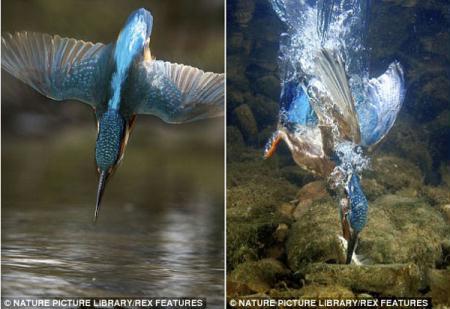 The kingfisher spots a fish below the surface and takes a premise aim (L)
before entering the water like a dart by tucking in its wings to snap up
its catch. (Photo Source: CRIOnline/Agencies)
It was surprising that the kingfisher parents shared their childcare duties, just as human beings. They even fed their kids in turn.
Here's a look at those moving moments: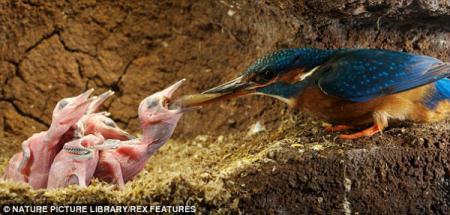 In the cosy confines of a riverbank nest, this dedicated female kingfisher
feeds her eight-day-old chicks, one at a time, with fish such as minnows
and sticklebacks.(Photo Source: CRIOnline/Agencies)