BEIJING, June 23 (Xinhua) -- Chinese Vice Premier Hui Liangyu and visiting World Water Council (WWC) president Loic Fauchon vowed to enhance cooperation on water resources Wednesday at a meeting in Beijing.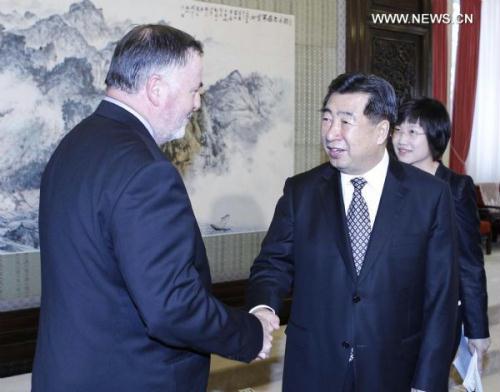 Chinese Vice Premier Hui Liangyu (R) meets with World Water Council President Loic Fauchon
in Beijing, capital of China, June 23, 2010.(Xinhua/Ding Lin)
Fauchon was in China to attend a conference of the WWC and the WWC Pavilion Day at the Shanghai World Expo.
Hui told Fauchon that China attached great importance to the building of the system on flood control and drought relief.
China endeavored to promote the transformation from traditional water management to modern and sustainable water management, Hui said.
China was willing to work with the WWC to find ways to cope with the global water challenge, he said.
Hui also briefed Fauchon on Chinese problems in water resources, such as soil and water loss, floods, drought and pollution.
Heavy rains and floods have ravaged 10 southern Chinese regions, leaving 199 dead and 123 missing, according to the Ministry of Civil Affairs.
Fauchon expressed sympathy over the floods, and expressed appreciation of China's "efficient relief work."
The Council hoped to expand cooperation with Chinese departments on water resources, Fauchon said.
The WWC, created in 1996, is an international platform "to promote awareness, build political commitment and trigger action on critical water issues at all levels", according to its website.
Editor:Du Xiaodan |Source: Xinhua