WASHINGTON, June 23 (Xinhua) -- China represents a huge opportunity for American businesses, and the relationship between the two countries should not be portrayed as a zero sum game, Commerce Secretary Gary Locke said on Wednesday.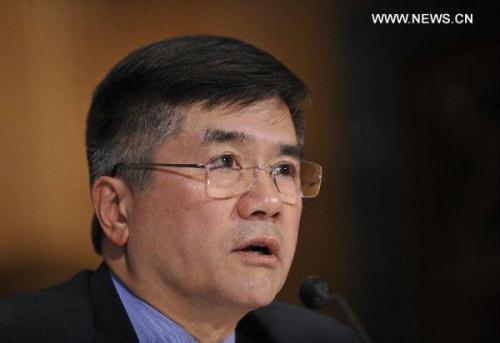 U.S. Secretary of Commerce Gary Locke testifies before the Senate Finance Committee
on U.S.-China economic relations on Capitol Hill in Washington D.C., capital of
the United States, June 23, 2010.(Xinhua/Zhang Jun)
"There are so many opportunities for trade to benefit both China and the United States," Locke said at a Senate Finance Committee hearing.
"I have seen those benefits first hand over the last 20 years, as Commerce Secretary, as an attorney in private practice, and as the governor of Washington State, where I helped double exports to China during my tenure."
According to Locke, thanks to strong Chinese demand growth and recovery in prices of agricultural products, now the U.S. exports to China are growing faster than overall U.S. exports.
"We should neither underestimate the importance of the China market nor the potential it holds for American exporters who tap into it."
During the same hearing, Ron Kirk, the U.S. trade representative, also hailed the opportunities provided by the China's growing economy.
"Thanks to China's strong recovery from the global recession, we have seen double digit growth in a variety of export sectors, ranging from high-end manufactured goods and chemical products to agricultural goods like soybeans," said Kirk.
U.S. goods and services exports to China totaled 85 billion dollars in 2009, and China is the U.S. third largest export market.
However, the two U.S. top trade officials also bluntly attacked some Chinese economic policies, vowing that the Obama administration will take strong actions to tackle the trade disputes with China.
"When cooperation and dialogue are not enough, we are committed to utilizing all the tools we have available in order to make the progress we need," said Lock at the hearing.
Related stories