While today's travelers usually prefer to use the fastest forms of transportation such as an airplane or a high-speed train, they tend to miss the most enjoyable part of traveling, which is the feeling of being on the road.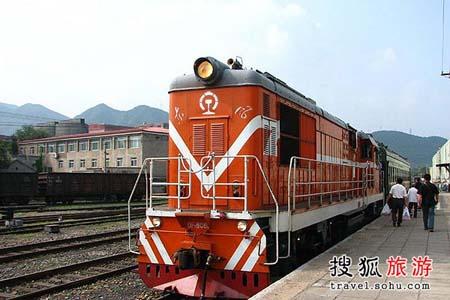 The red train has quite a vintage look. [Photo:travel.sohu.com]
In western Mentougou, a suburban district of Beijing, a one-carriage train still runs regularly on a 104-year-old railway which links the small villages hidden in its rolling mountains. The Jingmen Line serves not only as a means of communication for the locals, but also an emerging fashion of sightseeing in this well-known scenic district.
The railway was constructed in 1906 in order to transport the coals from Mendougou to Xizhimen, a traffic hub in downtown Beijing. In later years, the Xizhimen section of the railway was shut down and now only the Mentougou section remained, with about five stops throughout the journey.
A ticket for the Jingmen Line is in the traditional form of cardboard paper, sold on the train at 2.5 yuan per passenger. For tourists like 34-year-old Li Xuesong, the ticket is his favorite souvenir. Holding a train schedule in his hand, he said taking the Jingmen Line to tour Mentougou is a must-see experience for it guarantees the best vistas of the mountainous district observed from a close-up angle at a pleasant speed.
There has been controversy over whether or not to keep the train since buses have already met the local transportation need and more often than not, the train is nearly empty with only a few passengers on board. But the train has proved to be quite popular with tourists and also in times of heavy snow when taking a bus on the winding mountain roads is hazardous.