BEIJING, June 24 (Xinhua) -- China's National Meteorological Center (NMC) warned Thursday that torrential rains are expected to pound the nation's badly-flooded southern regions over the next two days.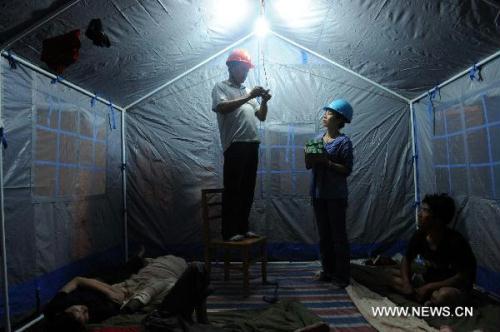 Electricians fix live wires in a makeshift tent serving for the people affected by
floods in Wuzhou City of east China's Jiangxi Province, June 23, 2010. A total of 17
evacuation centers in Wuzhou had received 20,014 people affected by floods until 19:00
Wednesday.(Xinhua/Zhou Ke)
Heavy downpours are likely to hit many areas in provinces of Guizhou, Hunan, Jiangxi, Zhejiang, Fujian, and Guangxi Zhuang Autonomous Region from Thursday to Friday, according to the NMC.
Torrential rain was also forecast for the country's north and west regions, including some areas in Xinjiang Uygur Autonomous Region, provinces of Yunnan and Sichuan, and Tibet Autonomous Region.
As of Wednesday, floods in south China had left 211 people dead and 119 others missing, causing direct economic losses to 43.3 billion yuan (6.3 billion U.S. dollars), according to the Ministry of Civil Affairs.