The Shanhai Pass of the Great Wall in Hebei province is the perfect place to catch a glimpse of life in China some 600 years ago.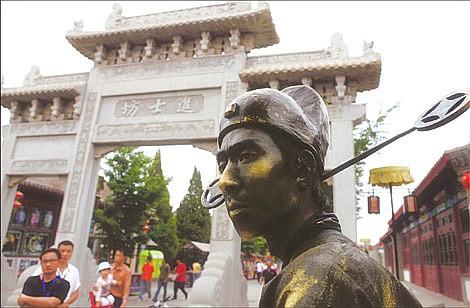 A young performer, posing as a statue of an ancient official, draws the attention
of visitors to Shanhaiguan that sits at the easternmost end ofthe Great Wall.
(Photos by Xu Jingxing / China Daily)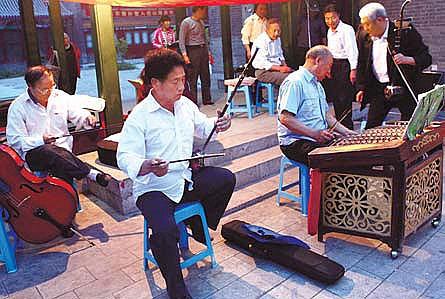 A band of elderly men playing music on the streets of Shanhaiguan.
The place where the Great Wall meets the Pacific Ocean at its eastern end is a stunning sight that draws millions of tourists today.
Many camp here overnight to catch the breathtaking view of the first rays of the sun kissing the soaring ramparts of its watchtowers and coating the blue waters of the Bohai sea with a golden hue.
But it presented a very different picture a decade ago, as backpacker Guo Qingyang from Shandong province will attest.
A frequent visitor to the Shanhai Pass (Shanhaiguan), located in Hebei province, Guo, 70, has witnessed the dramatic changes to the 600-year-old site, called the "No 1 Fortress under the Sky".
Stretching from west to east through several northern China provinces, the Great Wall was first built during the Qin Dynasty (221-206 BC), with successive dynasties rebuilding the parts destroyed in wars and adding their own to its length.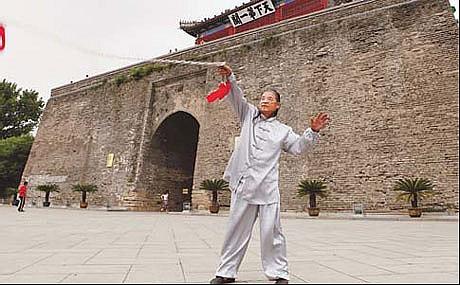 A kung fu master practicing his moves at the Shanhai Pass of Great Wall.
The sections in today's Hebei province, including the Shanhai Pass, were rebuilt during the Ming Dynasty (1368-1644).
The Pass, that sits between the sea and the Yanshan Mountains, was one of the first cultural heritage sites to be put under State protection in the early 1980s.
Miraculously, the original layout of the Ming Dynasty town of Shanhai is largely intact, experts say.
The town boasts more than 60 cultural heritage sites ranging from official residences, military offices, temples, old family houses, and more than 20 archways.
However, when Guo first visited this coastal town what he saw were big holes in the walls of the fortress and its auxiliary structures, collapsed watchtowers, and rain-eroded surfaces.
A number of the original bricks had been carted away and used by the locals to build their houses and even chicken coops and pig sties.