JOHANNESBURG, June 24 (Xinhua) -- Cote d'Ivoire coach Sven-Goran Eriksson said on Thursday that his former team, England, can beat Germany in the round of 16 at the World Cup.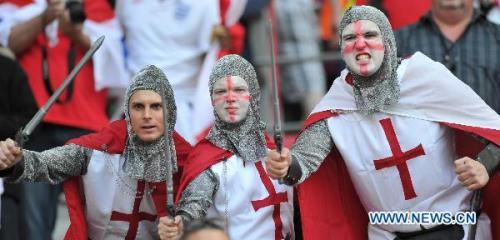 Supporters of England cheer prior to the 2010 World Cup Group C soccer match between
England and Slovenia at Nelson Mandela Bay stadium in Port Elizabeth, South Africa,
June 23, 2010. (Xinhua/Yang Lei)
Eriksson had taken charge of England from 2001 to 2006, reaching two World Cup quarterfinals.
"They can beat Germany," said the Swede. "Why not?"
"It will be a big game," he added. "A huge game."
England finished second in its group following a 1-0 win over Slovenia on Wednesday to set up another chapter in its World Cup rivalry with Germany.
The Swedish coach, whose Cote d'Ivoire side needs an unlikely combination of results to progress to the last 16, said he was impressed with England's performance against Slovenia.
"I saw their match and they qualified. They played well, especially in the first half," he said.
Cote d'Ivoire will play DPR Korea on Friday.
Editor:Jin Lin |Source: Xinhua