Watch Video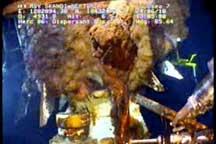 Play Video
BP is reinstalling a critical containment cap over the oil leak in the Gulf of Mexico. BP shut down the system on Wednesday morning when a remote controlled undersea robot apparently hit the top of the cap.
This closed one of three open vents through which oil and gas had continued to leak. The cap was removed for safety inspection. The top US oil spill official says a second capture system is operating normally, pulling more than 10,000 barrels a day to the surface and burning it off.
The cap system had channeled 16,600 barrels of oil to a drillship at the water's surface on Tuesday, its highest rate since it was installed June 3rd.
Editor:Zhang Jingya |Source: CCTV.com