BEIJING, June 25 (Xinhuanet) -- Various activities will be held by fans all over the world to observe the one year death anniversary of late pop king Michael Jackson on Thursday.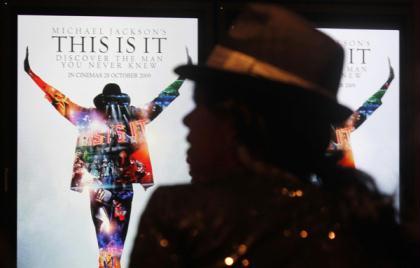 A Michael Jackson fan waits next to electronic posters at the Australian
premiere of the documentary "This Is It", in Sydney October 28, 2009.
The documentary includes interviews, rehearsals and backstage footage
of Michael Jackson as he prepared for his shows in London. The film opens
in Australia on October 29. (Xinhua/Reuters File Photo)
A large number of fans will gather at the Jackson family home in Encino and Forest Lawn in Glendale where Jackson is buried.
According to LA Now, parameters limiting access and outlining codes of conduct have already been built.
LAPD officer John Egan said, "We hope that anyone who decides to go to either venue does so safely and pays attention to what security officers tell them, and hopefully it will be a fun weekend for everyone."
"Our philosophy is we plan for the worst-case scenario of thousands of people [at the family home] and for the best-case scenario of a smaller number," he continued.
Joe Jackson and the Jackson Family Foundation will stage a Forever Michael memorial on Saturday.
The 1970s band the Chi-Lites and Randy Jackson's daughter, Genevieve will perform on the fundraising event, which will be held at the Beverly Hilton.
Michael Jackson's mother Katherine is expected to show up at a memorial in Jackson's birthplace, Gary, Indiana. There will also be a vigil.
Other places MJ fans are expected to stage memorial activities include Neverland Ranch, Los Olivos, and the Hollywood Walk of Fame where Jackson has his star, and Hollywood's Madame Tussauds, where Jackson's wax figure is displayed.
Editor:Zheng Limin |Source: Xinhua