JOHANNESBURG, June 24 (Xinhua) -- Cameroon coach Paul Le Guen said on Thursday that he will quit his job at the national team.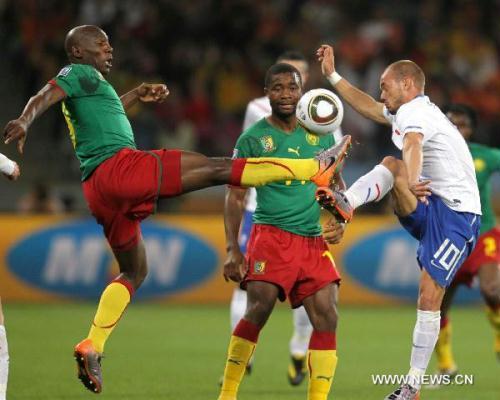 Wesley Sneijder of Netherlands (R) vies with a player of Cameroon during their
Group E last round match at 2010 FIFA World Cup at Green Point stadium in Cape Town,
South Africa, on June 24, 2010. (Xinhua/Xing Guangli)
The Frenchman made the announcement after the African side were eliminated from the World Cup without claiming a point.
Cameroon lost to Holland 2-1 on Thursday, adding to the misery of their earlier defeats to Denmark and Japan.
"We have lost all three matches and my contract with Cameroon is coming to an end," he said. "It was planned all along that I would stop and I will stop with Cameroon."
Le Guen, who took over the Cameroon reins in July 2009, has been linked with the coaching role of Australia but said that he has not yet made any decisions about his future.
"I'm going to think about the future and we will see," he said.
Editor:Jin Lin |Source: Xinhua