OTTAWA, June 24 (Xinhua) -- Chinese President Hu Jintao has scored remarkable achievements during his state visit to Canada.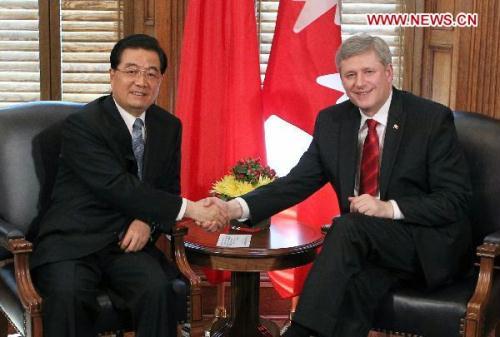 Visiting Chinese President Hu Jintao(L) shakes hands with Canadian Prime Minister
Stephen Harper as they hold talks in Ottawa,Canada,June 24,2010.(Xinhua/Fan Rujun)
During the visit, the two countries reached a wide range of important consensus, reaffirming their commitment to develop the Sino-Canadian strategic partnership and pledging to increase bilateral trade to 60 billion U.S. dollars by 2015.
China also announced that it will establish a China Cultural Center in Canada and invite 100 local Canadian educational officers and headmasters of primary and middle schools to visit China this year and 100 Canadian middle school students to attend a summer camp in China next year.
Related stories