PYONGYANG, June 25 (Xinhua) -- The Democratic People's Republic of Korea (DPRK) Friday held a large-scale assembly on Kim Il Sung Square to commemorate the 60th anniversary of Korean War.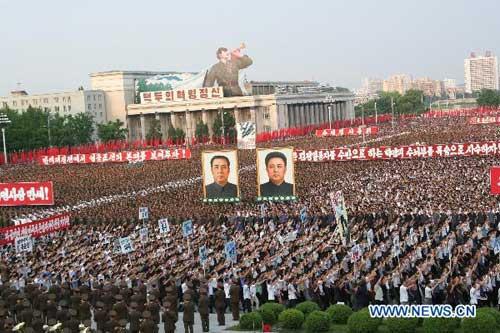 People attend an anti-U.S. rally at Kim Il Sung Square in Pyongyang, capital
of the Democratic People's Republic of Korea (DPRK), June 25, 2010. More than
100,000 civilians and army soldiers on Friday attended the anti-U.S. rally in
Pyongyang to mark the 60th anniversary of the 1950-53 Korean War.
(Xinhua/Gao Haorong)
More than 100,000 people took part in the assembly. Kim Ki Nam, secretary of the central committee of the Worker's Party of Korea (WPK), told the assembly, "a war can break out at any time" because of "the moves of confrontation by the U.S. and South Korea authorities". He stressed the "Cheonan" case was a plot to "scrap the inter-Korean relations, isolating the DPRK from the international community".
He called on the army and the people of the DPRK to "maintain utmost vigilance and get fully prepared to respond resolutely to any moves of aggression by hostile forces". He said the DPRK would "hold higher the banner of North-South Declarations", and start a nation-wide reunification campaign.
Representatives from the army, the agricultural section, the industrial section and students also made speeches at the assembly. A parade was held after the assembly.
The Korean War broke out on June 25, 1950. According to the official news agency KCNA, the DPRK's loss caused by the United States from 1945 to 2005 had reached 65 trillion U.S. dollars.
Related stories
Editor:Zhang Pengfei |Source: Xinhua