by Xinhua writer Liu Lina
TORONTO, June 25 (Xinhua) -- Taking actions are more important than making new promises for the Group of 20 (G20) to boost the ongoing but still fragile global economic recovery, said a senior Canadian official.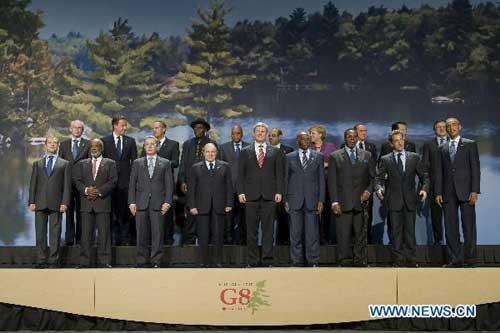 G8 leaders and outreach nations gather for a group photo at the G8 Summit at
Deerhurst Resort in Huntsville, Ontario, June 25, 2010. Pictured top row, left
to right: European Union Council President Herman Van Rompuy, British Prime
Minister David Cameron, Jamaican Prime Minister Bruce Golding, Nigerian
President Goodluck Jonathan, South Africa President Jacob Zuma, Ethiopian Prime
Minister Meles Zenawi, German Chancellor Angela Merkel, Italian Prime Minister
Silvio Berlusconi, Japanese Prime Minister Naoto Kan, European Union Commission
President Jose Manuel Barroso. Bottom row, left to right: Russian President
Dmitry Medvedev, Haitian President Rene Preval, Colombian President Alvaro Uribe,
Algerian President Abdelaziz Bouteflika, Canadian Prime Minister Stephen Harper,
Senegalese President Abdoulaye Wade, Malawian President Bingu wa Mutharika,
French President Nicolas Sarkozy, and US President Barack Obama. (Xinhua/Pool)
"I call Toronto summit as an accountability summit," Peter van Loan, minister in charge of international trade, told Xinhua during an interview on the eve of the fourth G20 Summit in Toronto.
"Action actually is more important than making new commitment."
Leaders from 20 major economies around the world are scheduled to meet here in Toronto for their fourth summit since this round of global financial and economic crises broke out in fall 2008.
Though they are expected to discuss key global economic issues, differences are destined to pop up and stick in their way, said the minister.
"There is a real challenge. G20 is a big body, (and) getting 20 different countries with different interests to agree on anything is a challenge," van Loan said.
The success will hinge on whether consensus could be reached on issues such as financial and banking reforms, resisting protectionism, managing stimulus and securing commitments to dealing with government debt and deficit, the minister added.
He said the evolving Greek debt crisis had reminded people that the world economy is not out of the woods yet.
"Global recovery still needs a lot of careful attention. Countries should focus on those priorities," he said.
"If people could show being stuck to their commitments, then the G20 will be successful. A lot of the questions will be decided here. I hope there will be positive outcome. We will wait and see," van Loan said.
On China-Canada economic and trade relations, the minister said that he is optimistic about the bilateral ties.
"Since Premier Harper visited China last year, a new chapter opened in that relationship," he said.
In Loan's view, economic and trade relations between the two countries are complementary. Canada offers China tremendous opportunities in terms of resources such as chemical, uranium and oil sands, while having tremendous appetites for manufactured products from China.
The two sides have just signed a series of new economic and trade cooperation agreements during Chinese President Hu Jintao's visit to Canada this week.
"These commitments and agreements are very positive. I see nothing but to forward that progress on the relationship," he added.
The Canadian official said China, as an economic power-house, a major emerging economy, and one of the world's largest and strongest economies, plays a key role in the G20 which is focused on economy.
"China has been showing good leadership heading into this summit," he said.
Editor:Zhang Pengfei |Source: Xinhua