by Yang Lei, Zhang Dacheng, Lin Zhaohui
TORONTO, June 27 (Xinhua) -- The fourth Group of 20 (G20) summit concluded here on Sunday afternoon after leaders of major economies agreed on a set of targets of fiscal consolidation and measures to ensure a strong, sustainable and balanced growth.
Addressing the media at the closing of the summit, Canadian Prime Minister Stephen Harper said that "firm targets" have been established in a bid to advance economic recovery that is "uneven and fragile."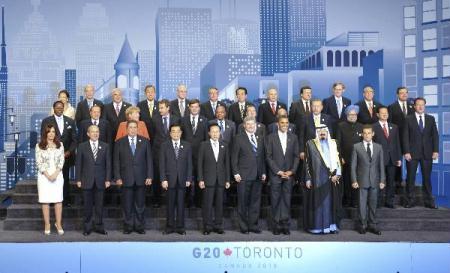 Chinese President Hu Jintao (4th L Front) poses for a group photo with other
participants of the fourth summit of the Group of 20 (G20) in Toronto, Canada,
June 27, 2010. (Xinhua/Li Xueren)
"Advanced economies have committed to fiscal plans that will at least halve deficits by 2013 and stabilize or reduce government debt-to-GDP ratios by 2016," said the G20 Toronto Summit Declaration which was issued on Sunday.
G20 recognized Japan's situation and welcomed its own fiscal consolidation plan announced recently, and urged those countries with serious fiscal challenges to accelerate the pace of consolidation, according to the declaration.
World leaders recognized that the G20's highest priority is to "safeguard and strengthen the recovery and lay the foundation for strong, sustainable and balanced growth, and strengthen our financial systems against risks."
The declaration said advanced deficit countries should boost national savings while surplus economies will undertake reforms to reduce their reliance on external demand.
The G20 members, including the world's major industrialized and developing countries, account for 90 percent of global output, 80 percent of world trade and two-thirds of the world's population.
The Toronto summit, under the theme of "Recovery and New Beginnings," is the first in its new capacity as the world's premier forum for international economic cooperation, as determined at the previous summit in Pittsburgh, the United States last September.
Regarding the financial sector reform, the Toronto summit welcomes the full implementation of the European Stabilization Mechanism and Facility, the EU decision to publicly release the results of ongoing tests on European banks, and the recent U.S. financial reform bill.