JOHANNESBURG, June 27 (Xinhua) -- Argentina set up a World Cup quarterfinal showdown with Germany on Sunday after defeating Mexico 3-1 in an entertaining second round clash at Soccer City Stadium.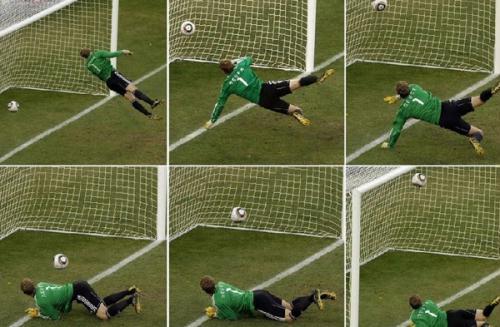 Combination photo shows Germany's goalkeeper Manuel Neuer watching the ball cross
the line during the 2010 World Cup second round soccer match against England at Free
State stadium in Bloemfontein June 27, 2010. England were denied an equalising goal
on Sunday when a Frank Lampard shot from 20 metres out hit the crossbar and dropped
well over the line. (Photo Source: sport. sina.com)
Carlos Tevez scored twice - once clearly offside while Gonzalo Higuain capitalized on a defensive error to top the tournament goalscorers with four in four matches.
Earlier Sunday, Germany beat England 4-1 but that game was also mired in controversy after the referee ruled out a clear goal from England midfielder Frank Lampard with the score at 2-1.
Argentina coach Diego Maradona was pleased with the win, but admitted Germany would be a step up from the hard-working Mexicans.
"I feel like pulling on the jersey and playing myself," said Maradona.
"We know Germany are a different team to the side we faced in Mexico. They are stronger, but we will field the right players to beat them."
Argentina went ahead on 26 minutes when Tevez headed into an empty net from close range after Lionel Messi had latched onto a loose ball toward goal. TV Replays showed Tevez to be offside, but Italian referee Roberto Rosetti allowed the goal to stand despite protests from the Mexicans.
Higuain then capitalized on a blunder by Mexico defender Ricardo Osorio who passed the ball straight to Higuain just outside the penalty box. The Argentinean striker calmly rounded goalkeeper Oscar Perez before slotting into an empty net in the 33rd.
Tevez arguably scored the goal of the tournament so far on 52 minutes by smashing an unstoppable shot into the top-right corner just outside the penalty area.
Mexico forward Javier Hernandez earned his side a consolation goal when he fired a shot past Argentina goalkeeper Sergio Romero in the 71st minute.
Germany powered into the last eight by crushing England 4-1 in a match that will be remembered for the goal not awarded to Lampard.
England coach Fabio Capello believed that referee Jorge Larrionda's wrong decision was the turning point and eventually caused a disastrous end to his team's South African journey.
"If we had been awarded the goal at 2-2, the game would be different," said the Italian.
"It's a big mistake from the referee. It's too important for us to go forward," he added.