Although it's only about a 40-minute ride from downtown Shanghai, Sheshan in Songjiang district feels much further away. A sleepy, nonchalant feeling hangs over most of the area, with its serene attractions disturbed only by the occasional roar of a tour bus or a throng of milling visitors. The Global Times hopped the metro out to Sheshan to take a closer look.
Sheshan Basilica.
Making a mountain out of a hill
It may stand barely 100 meters tall, but Sheshan is about as close as Shanghai gets to a mountain. With most of the surrounding area at sea level, Sheshan looms over the surrounding landscape. The scenic area surrounding the mountain is divided into two parts, east and west, which together make up the Sheshan National Forest.
The western side of the park contains Sheshan Mountain itself as well as its best-known attractions: the Shanghai Astronomical Museum and the Sheshan Basilica. For 30 yuan ($4.40), tourists can take the 15-minute hike up to the top of the mountain and see these attractions up close. Originally founded as an observatory by French Catholic missionaries in 1900, the Shanghai Astronomical Museum houses a large antique telescope, which was renowned as the largest telescope in East Asia when it was erected.
Directly next to the museum is the Sheshan Basilica. Completed in 1873, every May the basilica is the site of pilgrimage for catholics from all across China. While you are there be sure to take note of the stained glass window above the entrance featuring a contemporary rendering of the nativity utilizing irregularly shaped glass shards.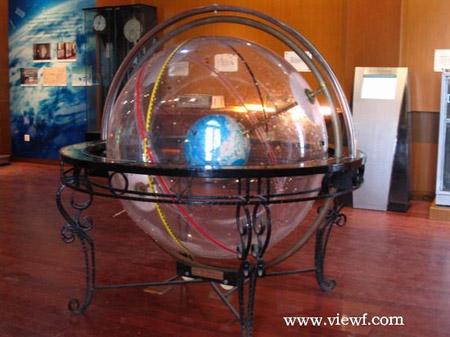 Shanghai Astronomical Museum
Near the entrance to the west side of the park, you're sure to notice the xiudaozheta, a pagoda dating from the Northern Song Dynasty (960- 1127). The story goes that a man named Xiu, the designer of the pagoda killed himself as an act of extreme piety by self-immolation just after its completion. For those looking for some light entertainment, the Bamboo Amusement Park offers a collection of bamboo-themed activities including a bamboo slide and a maze constructed out of bamboo (admission 8 yuan).
The east side of the park offers less in terms of attractions, but does offer spectacular views of Sheshan. Spending the 5 yuan to ascend the gaudy, red and yellow observation tower on a clear day is a must, if only for its unparalleled views. The surrounding bamboo forest, known in the Qing Dynasty (1644-1911) for providing fresh bamboo shoots, is also worth a brief stroll. You can grab a cup of iced coffee at the Forest Coffee for 22 yuan.