Full video: 1st half >> 2nd half >>
DURBAN, South Africa, June 28 (Xinhua) -- Goals from Arjen Robben and Wesley Sneijder gifted the Netherlands a 2-1 win over Slovakia here on Monday and a berth in 2010 FIFA World Cup quarterfinals.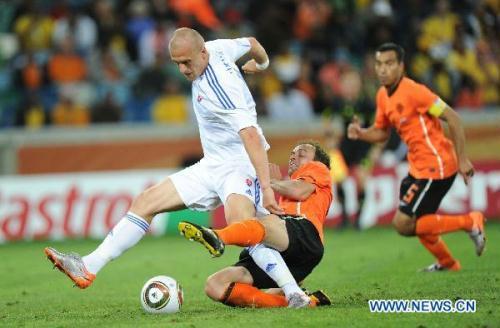 Martin Jakubko (L) of Slovakia is defended during the 2010 World Cup round of 16
soccer match against the Netherlands at Moses Mabhida stadium in Durban, South Africa,
on June 28, 2010. Netherlands won 2-1 and is qualified for the quarterfinals.
(Xinhua/Chen Haitong)
Robben, a dribbling master for Bayern Munich, cut inside from the right in the 18th minute, dancing past two defenders outside the box and firing a shot in the near post.
Dutch midfielder Rafael van der Vaart dropped to the bench to give Robben a chance to start for the first time in this World Cup and the latter made it.
Robben said after the game that he had been out for quite a long time and he knew he "must be explosive" in the match.
"I played confidently in the game, but I know it was not my top form," he noted. "The most important thing is that we win the first match of the knockout stage. We will relax tonight and sit and watch the game between Brazil and Chile."
Before Robben's goal, both sides played cautiously in a balanced game.
After the goal, the game returned to slow track and both made few scoring chances in the first half.
Dutch coach Bert Van Marwijk said:"I don't think we played that bad. We have created many scoring chances. Anyway, we came here for the biggest prize and we need wins first."
"We deserved the win today," he added. "Slovakia are very tough and they had chances to tie the score or even win the game."
"I must thanked Robben and our keeper today," he added.