Sharks generally strike fear into the heart of the average swimmer. For some, however, the idea of sharing ocean space with the sharks is exciting and exhilarating. Fortunately, there are a handful of destinations around the world where shark lovers can visit their ferocious finned friends.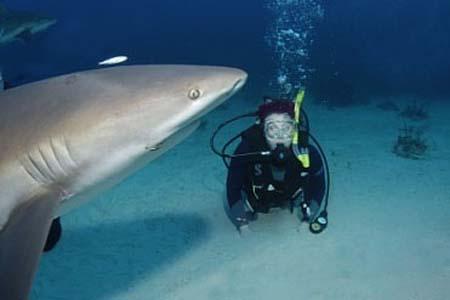 Swimming with sharks
Your level of diving experience doesn?t matter. There are tons of great tours and trips available for both beginners and experienced divers alike. Some diving experiences take place in the safety of a controlled aquarium, but most divers agree that the best way to see a shark is in its natural habitat. Most of these trips consist of a boat rides into deep waters. Here we present 10 of our favorite locations for swimming with the sharks.
1. Galapagos Islands
The waters off of the Galapagos Islands, off the coast of Ecuador, are home to a variety of marine species you might not see anywhere else. The hammerhead sharks in these waters are as large as 15 feet long, and you're sure to see some marine iguanas as well!