JOHANNESBURG, June 29 (Xinhua) -- FIFA President Sepp Blatter expressed his apology on Tuesday to England and Mexico for the referee errors, which helped to cause the exit of the two teams in the South Africa World Cup.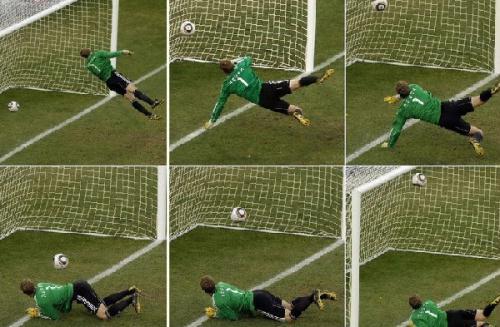 Combination photo shows Germany's goalkeeper Manuel Neuer watching the ball cross
the line during the 2010 World Cup second round soccer match against England at Free
State stadium in Bloemfontein June 27, 2010. England were denied an equalising goal
on Sunday when a Frank Lampard shot from 2O metres out hit the crossbar and dropped
well over the line. (Photo Source: sport. sina.com)
Blatter said on Tuesday he apologized to team officials of England and Mexico, and that both delegations accepted his apology.
"Personally I deplore it when you see evident referee mistakes," said Blatter. "The only thing I can do is yesterday I have spoken to the two federations directly concerned by referees mistakes.I have expressed to them apologies and I understand they are not happy and that people are criticizing."
According to the Swiss, officials from the England delegation said "thank you", while Mexican officials respond to the apology with simply nod.
Both of the two referee mistakes occured on Sunday during two World Cup last 16 matches. Midfielder Frank Lampard could have leveled 2-2 for England but his clear goal, bouncing down from the crossbar, was denied by the referee, before England went on to lose 1-4 to Germany.
During Mexico's 1-3 defeat to Argentina, Argentine striker Carlos Tevez's opening goal was scored from a clear offside position. Although video replay was showed on the big screen of the stadium, the referee refused to take it as an evidence to disallow the goal.
Blatter said that the International Football Association Board would reconsider the introduction of goal-line technology at a July meeting in Cardiff, Wales.
"After what we have seen, it would be a nonsense not to open the issue of technology again at this business meeting," said Blatter.
However, Blatter also indicated that incidents "like in the Mexico game don't need technology".
"The only principle we are going to bring back for discussion is goal-line technology," added Blatter.
Editor:Jin Lin |Source: Xinhua