BEIJING, June 14 (Xinhuanet) --Local authorities and residents in Qingdao City have been struggling to remove a large mass of green algae that has come ashore on the beaches of the popular coastal tourist destination in east China's Shandong Province.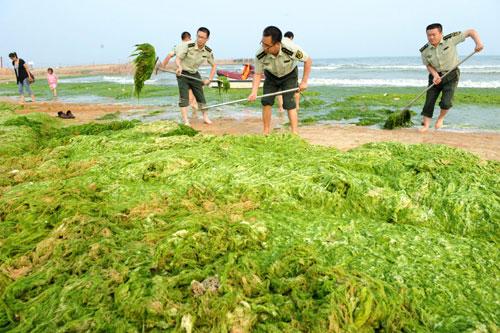 Police officers from Huangdao frontier guard bridgade clean green algae along the beach
in Qingdao, east China's Shandong province, June 27, 2010. As large amounts of the algae
are washing ashore, the city implemented a series of plans to prevent plague triggered
by the algae.(Xinhua)
At a beach on Xuejia Island in Qingdao, the foul-smelling green algae, called enteromorpha by scientists, has formed a strip which is reported to be two to three meters wide and hundreds of meters long.
The North China Sea Branch (NCSB) of the State Oceanic Administration said Monday that the floating green algae covered a 400-square-km area in the waters to the south of Qingdao.
The government staff, tourism companies and coastal residents began cleaning the green algae as soon as it was spotted on the beach Friday, said Sun Hongbin, who operates a motorboat-rental business on the beach.
The local government has dispatched 66 vessels to clean the algae and four other boats to monitor the movement of the algae mass.
A net had also been set up off shore to block the incoming algae as hundreds of people participated in the clean-up efforts either on shore or at sea, Sun said.
The green algae which has been removed would be used to feed livestock or be buried to fertilize farmland, according to officials.
Related stories