MOSCOW/WASHINGTON, June 30 (Xinhua) -- With the will to reset their relations, both the United States and Russia are trying to avoid the spy row from escalating into a diplomatic meltdown.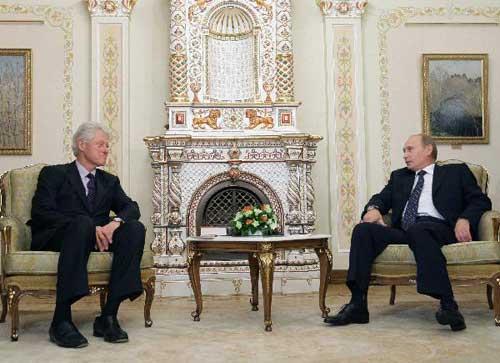 Russian Prime Minister Vladimir Putin, right, and former U.S. President Bill
Clinton seen during their meeting in the Novo-Ogaryovo residence outside Moscow,
Russia, Tuesday, June 29, 2010. (Xinhua/Reuters Photo)
Following the detention of 10 alleged Russian spies in the United States on Sunday, Russian Foreign Ministry spokesman Andrei Nesterenko chastised the detention as "groundless" and with "unseemly goals," adding that a public statement of the U.S. Department of Justice was made "in the spirit of the Cold War."
Nikolai Kovalyov, former chief of the Federal Security Service, said some of the U.S. charges against the alleged spies resembled a "bad spy novel."
Nevertheless, the Russian government are cooling off its rage in their most recent statement despite persistent denial that these alleged spies had done anything harmful to the United States.
While meeting with former U.S. President Bill Clinton in his country residence on Tuesday, Russian Prime Minister Vladimir Putin hoped the spy row would not jeopardize Russia-U.S. ties.
"I understand that back home police are putting people in prison. That's their job," said Putin, whose words drew a laugh from Clinton.
"I hope very much that the positive trend that was collected recently in our interstate relations will not experience any harm because of the recent events," Putin added.
The Obama administration is also laboring to word its positions in case the spy row may breed any further political consequences.
President Barack Obama on Tuesday dodged reporters' questions related to the spy scandal twice.
Apparently in response to Putin, White House spokesman Robert Gibbs said the spy row will not impact the recently warmed-up U.S.-Russia relations.
"I think we have made a new start to working together on things like in the United Nations dealing with North Korea (DPRK) and Iran. I do not think that this will affect those relations," he said.
Instead of being initiated by the president, Gibbs said, the arrests were no more than a law enforcement matter.
However, Gibbs admitted that before President Obama met with Russian President Dmitry Medvedev in the White House last Thursday, he was aware of the spy scandal, though without the knowledge of the exact timing of the arrests. And the president did not raise the issue with his Russian guest.
Editor:Zhang Pengfei |Source: Xinhua