GUANLING, Guizhou, June 30 (Xinhua) -- Rescuers have recovered five bodies -- including two children's bodies -- from the ruins of a southwest China village, two days after a devastating rain-triggered landslide destroyed 37 houses and buried 99 villagers under mud, authorities said Wednesday.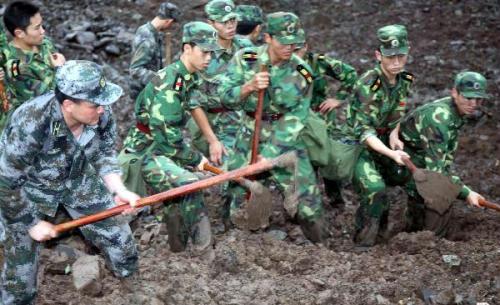 Rescuers work at the landsliede site in Dazhai Village in Guanling County, in southwest
China's Guizhou Province, on June 29, 2010.(Xinhua/Yang Ying)
As of 5:30 p.m. Wednesday, 94 residents of Dazhai Village, Guanling County, Guizhou Province, remained missing. The bodies of the two children were recovered Wednesday afternoon, bringing the confirmed death toll to five.
More bodies are expected to be found as 500 rescuers and 14 heavy back-hoes comb the ruins. The weather in the area has improved.
The landslide struck 37 homes in Dazhai Village, Gangwu Township of Anshun City's Guanling County, at 2:30 p.m. Monday.
At least 1,000 villagers who lived around the area had been evacuated, officials said.
Editor:Du Xiaodan |Source: Xinhua