Location
Situated in Leqing, Wenzhou in the southeast of Zhejiang Province, Yandang Mountain is one of the 10 famous mountains in China. It costs four and half hours from there to Shanghai by train.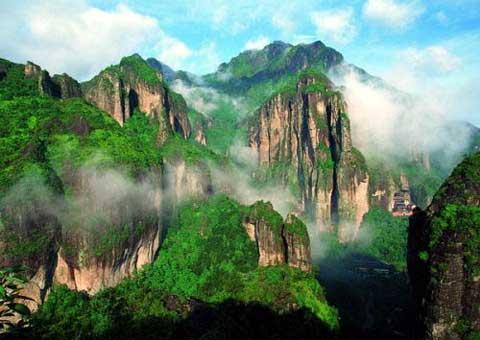 Yandang Mountain (File Photo)
Geology
Yandang Mountain, which was formed 120 million years ago, is a typical ancient rhyolitic volcano of the Cretaceous period. Over the past 20,000 years, the volcano in Yandang Mountain has experienced four periods and several dozen eruptions. Thanks to multi eruptions, falls, revivals and rises, and the erosion by water and wind for millions of years, the present landforms were formed.
Characteristics
Yandang Mountain covers an area of 450 sq km, and has more than 500 tourist attractions and eight major scenic zones. Of all the scenic spots in Yandang Mountain, Lingfeng Peak, Lingyan Rock and Dalongqiu Waterfall are the most famous, known as the "three perfections in Yandang Mountain".
Yandang Mountain features complicated landforms and abundant tourism resources. When one takes a step forward, the scenery will change; and the peaks show different shapes when they are viewed from different angles.
If one enters the Dalongqiu Waterfall Scenic Zone from the entrance of the valley along the stream, one will first see the Scissor Peak, which changes the shapes when it is viewed from different angles. Now it looks like the bud of a yulan magnolia flower ready to burst; now, like a pair of scissors; now, a woodpecker catching insects; now, a big bear holding a tree with its arms; and now, a stone pillar piercing into the sky. If one walks forward a few steps and turns one head back, one will find it resembles a sailing boat.
The scenery in Yandang Mountain is mainly composed of peaks, waterfalls, caves and steep cliffs. The main tourist attractions in the mountain include the Two-palm Peak, Double Bamboo Shoots Peaks, Scissor Pak, Lotus Peak, Heavenly Pillar Peak, Flay Display Peak, Pingxia Peak, Dalongqiu Waterfall and Xiaolongqiu Waterfall.