By Tom Mangione
BEIJING, June 30 (Xinhuanet) -- Summer has arrived and with it the plum rains or meiyu. Getting caught in the rain is an all too often occurrence and the chances of catching a cab are remote. And as rain hits the streets umbrella sellers materialize to hawk their wares to desperate passersby.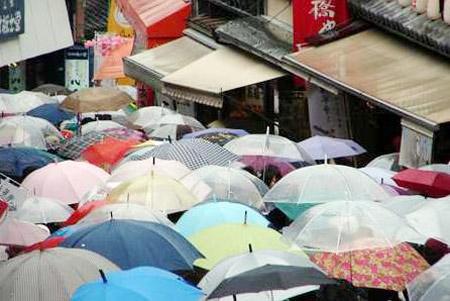 Hello brolly. (Photo source: Global Times)
While the need to carry these accessories is a nuisance for most, fashionistas may find the plum rains are an opportunity to sport a designer umbrella. The Global Times took a look at some of the designer umbrellas on offer in the city.
Holding off the rain European style
Kobold is a German umbrella brand with over 150 years of history. Taking its name from a diminutive sprite popular in German mythology associated with mischief, the umbrellas come in two styles: one a pocket-sized, fully retractable, manually operated umbrella for 198 yuan ($29.10), the other a full-sized faux wooden handle with a smaller, retractable shaft for 298 yuan. The umbrella tops themselves feature prints of plaid, water-drops, and the ironic depiction of people with umbrellas in the rain.
Rozana, a Chinese company, touts its product line with the slogan that it "comes from French fashion" and the company produces a number of standard pocket umbrellas in plaid and solid colors. They also offer more gaudy manually operated retractable umbrellas complete with cases with lace trim and decorative jewels. Both styles can be had for 280 yuan.
French designer Agnès b.'s umbrellas incorporate the brand's characteristic cinematic style. One manually operated umbrella features a dramatic black and white print of a canal in a European city with a quaint stone bridge traversing it. Another umbrella, an automatically opening model, features a shaft and handle of real wood and a top reminiscent of impressionist paintings of water. Both can be had for 540 yuan.
Umbrellas that show off
One of the most interesting umbrellas we found was by the perennial cutesy Japanese brand, Hello Kitty. The umbrella isn't much to look at, a uniformly red, full length umbrella with a single Hello Kitty logo imprinted on it. While fans of the feline are known to be particularly loyal to their products, it seems a bit much at 280 yuan. However, when wet, the top of the umbrella changes colors to reveal a pink pattern of Hello Kittys.
For those looking to break the bank with their purchase, an umbrella featuring characters from the Japanese anime, Rune - a manually operated, full-length umbrella in dark green retails for a whopping 1,000 yuan.
Where to buy
Kobold, Rozana, Hello Kitty and Rune umbrellas can all be purchased at the Jiuguang City Plaza Mall at 1618 Nanjing Road West, Jing'an district
Agnès b.'s umbrellas can be purchased at their store in the Westgate Mall, 1038 Nanjing Road West
(Source: Global Times)
Editor:Yang Jie |Source: