MEXICO CITY, June 30 (Xinhua) -- Hurricane Alex killed eight people in two separate incidents in Monterrey, the capital city of the northern Mexican state Nuevo Leon, civil protection authorities said Wednesday.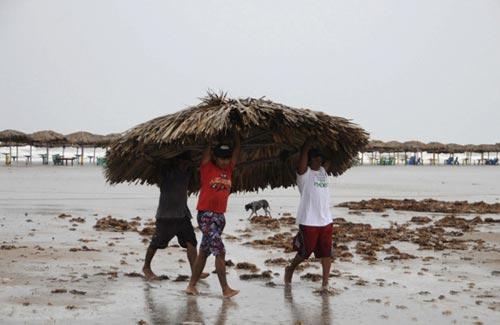 People remove the roof of a beach shelter before hurricane Alex is expected to
make landfall, at Miramar beach in Tampico June 30, 2010. (Xinhua/Reuters Photo)
Hurricane Alex, which is now category two and has a radius of 110 km, has already killed 11 people across Central America and southern Mexico. Moreover, it has caused floods across southern Mexico. It has steady winds of 155 km per hour (kph) and gusts of up to 185 kph.
The U.S. National Hurricane Center (NHC) said the storm has made its landfall in northern Mexico Wednesday night.
Hurricane warnings have been dropped for the South Texas coast, according to local officials, and downgraded to tropical storm warnings.
However, forecasters said rainbands and squalls from Alex will continue along the Gulf coast from the U.S. state of Louisiana through Texas.
They said the biggest concern regarding Alex for the United States is heavy rain that brings potential flooding. Widespread rainfall totaling four inches or more is likely for southern Louisiana and southwestward across much of south and southeast Texas.
The agency predicted the storm will dissipate over land within 48 hours and rains associated with the storm "could cause life-threatening flash floods and mud slides."
It also warned of a storm surge, a tsunami of up to six feet that follows the hurricane's eye, which could reach several miles inland.
Earlier in the day, authorities in Tamaulipas state said they had closed all schools statewide. Nuevo Leon authorities issued the same order just hours later.
Jorge Camacho Rincon, head of Nuevo Leon's civil protection department, while announcing a host of emergency measures at a press conference, said the citizens there "should consider the hurricane as a danger across the whole of the state's territory."
He also urged those living close to rivers, streams and canals to remain highly vigilant.
The department has already evacuated 5,000 people to emergency shelters. The city of San Pedro Garza Garcia announced it would postpone its annual fair in case the Santa Catarina River bursts its banks close to the planned fair site, the University of Monterrey.
In Tamaulipas, evacuation efforts are also underway, with 7,000 people being moved from their coastline homes to shelters.
Tamaulipas officials said Reynosa, a city of around half a million and the largest population center, is facing the risk of serious damage. Other densely populated areas at risk in Tamaulipas include Matamoros, San Fernando, Soto La Marina, Valle Hermoso and Rio Bravo.
Tamaulipas authorities said they were expecting rainfall of up to 250millimeters (mm) within 24 hours after the storm hits land.
The governor told media some 2,500 troops were sent to the area for relief and rescue efforts.
During its journey up the Atlantic coast, the storm killed five people in Nicaragua, three in El Salvador and two in Guatemala.
The Atlantic hurricane season started on June 1 and will end on Nov. 30.
The U.S. National Oceanic and Atmospheric Administration's outlook for 2010 calls for 14 to 23 named storms with winds of 62.4 kph or higher, including eight to 14 hurricanes with winds of 118.4 kph or higher and three to seven major hurricanes.
Editor:Zhang Pengfei |Source: Xinhua