A trip to famous resorts in Beijing last Saturday was a feast for 40 international students studying Chinese history and culture.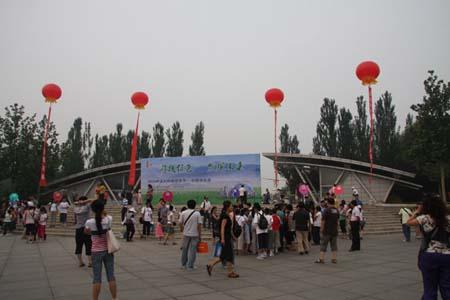 Tourists gather at the gate of Haidian Park on Saturday, June 26, 2010.[Photo:
CRIENGLISH.com]
Most of the foreign students were majoring in Chinese at Capital Normal University and Beijing Language and Culture University. The trip organized by the Haidian Tourist Bureau included visits to three places -- the Wenchang Gallery at the Summer Palace, Peking University and Yuanmingyuan Park.
Starting at the Wenchang Gallery at the Summer Palace, the students had a close look at fabulous ancient artwork. The Treasure Collection Hall displayed some classical porcelain vases and plates. The Chinese character for longevity (寿) written by Empress Dowager Cixi and her portrait amazed many of the students, and some of them took photos of the old dowager.
As they walked among the various rooms, the students from different countries and universities discussed the artwork. Their communication was not only an exchange of individual opinions, but also an exchange among different cultural backgrounds.
From this angle, the "History and Culture" trip was not just about Chinese history and culture, but also about gaining insight into other cultures.
The students entered one gallery that displayed some of the greatest artworks. A tour guide told them about every item on display, so that they learned about the legendary country and its profound culture.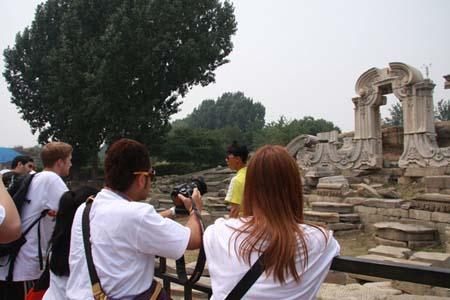 Students listen to an introduction of the Dashuifa site on Saturday, June 26,
2010. [Photo: CRIENGLISH.com]
"Did you see the jar with the red character?" said Forrest Fabian Jesse, a Ph.D. student at Beijing Jiaotong University. "It is simply fantastic. I'm totally impressed by that piece. I should feel lucky because it was not destroyed in 1860."