There is just one problem with Bo Wei Yuan, an excellent barbecue joint located on Jiu Gulou Dajie in a sea of street stalls and grillrooms that pump out lamb kebobs and chicken wings: You almost expect to be served the ubiquitous meats on a stick.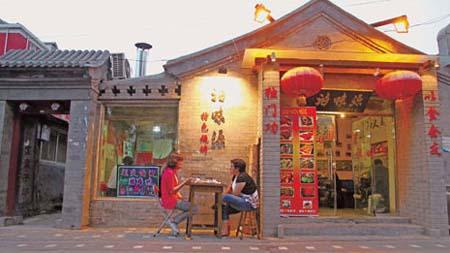 Two diners enjoy Bo Wei Yuan's offerings right outside the restaurant's entrance.
[Photo: China Daily]
On a late night, it's easy to think that every restaurant in the neighborhood dishes up the spicy street food. Skewers litter the sidewalks, smoke from a grill seems to rush out of every front wall and metal plates, typical dinnerware stack up high on outdoor tables.
Bo Wei Yuan blends in too easily, its dark gray exterior matching all of the other achromatic buildings. Inside, there's little fuss except for the cute photos of dogs hanging on the walls of bamboo. Many passers-by look at the restaurant's outdoor menu, see the dishes of grilled meats and keep walking.
Well, they miss out. Bo Wei Yuan is excellent precisely because it takes Chinese grilling to a different level, one that lovers of American dry-rub barbecue will find familiarities in. Not coincidentally, the restaurant's name roughly means a compromise of taste between tradition and from abroad.
But make no mistake, there is no compromising on the meat. Brined in pineapple and red wine before it's grilled, the slices of beef tongue have hints of honey and fennel and are unbelievably moist. The hunks of lamb are not overly spiced nor overcooked as they are in most restaurants in Beijing. Instead, it's fall-off-the-bone tender with touches of anise and brandy. The chicken is succulent and roasted sweet. Packed onto a plate and served with a sweet chili sauce, the three meats were devoured quickly.