GUANLING, Guizhou, July 1 (Xinhua) -- The death toll from a rain-triggered landslide in southwest China's Guizhou Province had risen to 13 after rescuers recovered another two bodies Thursday night, rescue headquarters said.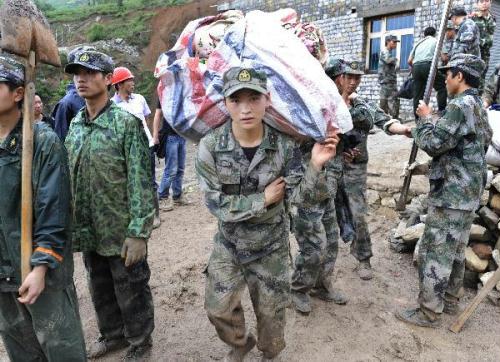 Rescuers carry bundles of parcels for local villagers at the landslide ruins, in Dazhai Village,
Gangwu Township, of Guanling Bouyei & Miao Autonomous County, southwest China's Guizhou Province,
June 29, 2010.(Xinhua/Peng Nian)
Some 2,000 people continued the rescue operation, but the chance of survival for the other 86 villagers was slim after being buried under mud for three days, rescuers said.
More bodies are expected to be found as rescuers comb the ruins.
"It is almost impossible for any of the trapped to be alive now. We are doing our utmost to retrieve the bodies. We hope that will bring closure for the bereaved families," said Li Jigao, a rescuer.
The landslide struck 37 homes in Dazhai Village, Gangwu Township of Guanling County, at 2:30 p.m. Monday.
Some migrant workers have returned home after hearing their relatives were missing. A young woman in her twenties blacked out Thursday morning after seeing some clothing being dug out of the debris, said Liu Shisheng, an armed police officer.
"My grandfather is still buried there," said Huang Jiping, a senior student from Guizhou Normal University. He rushed home after hearing the tragedy.
Despite the grief, he is helping children to resume classes as a "temporary teacher".
"I major in education, and I think I can help," he said.
More than 80 students resumed their classes in make-shift tents Thursday.