By Sportswriter Cao Jianjie
PORT ELIZABETH, July 2 (Xinhua) -- The Netherlands eliminated 10-man Brazil 2-1 in a hot-tempered clash of titans to advance into the World Cup semifinals on Saturday.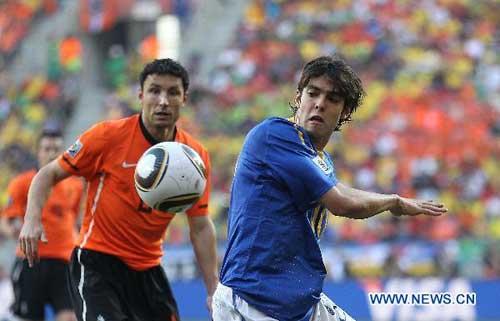 Brazil's Kaka (R) vies with Mark Van Bommel of the Netherlands during the 2010
World Cup round of 8 soccer match at Nelson Mandela Bay stadium in Port Elizabeth,
South Africa, on July 2, 2010.(Xinhua/Liao Yujie)
The Brazilians controlled the first half where the five-time champions opened scoring through Robinho at the 10th minute, but they became edgy after Felipe Melo's own goal and lost composure after Wesley Sneijder's late goal.
Dunga's side started aggressively. Two minutes after Robinho's goal was annulled for Dani Alves being in offside, Felipe Melo delivered from halfway line a simple pass to unmarked Robinho, who took the ball to the edge of the penalty area and slotted past Dutch keeper Maarten Stekelenburg.
Arjen Robben, who was the nearest Dutch "defender" to Robinho, seemed dazed when the Santos striker swept past him and scored Brazil's opening goal.
The Netherlands fought back as Mark van Bommel set up Dirk Kuyt down their left and his shot was saved at the near post by Julio Cesar.
At the 25th minute, the Netherlands failed to clear a corner and Dani Alves took the possession and sent a cross to Juan, who blazed over the bar from several meters away.
The Brazilians gave the Dutch keeper one more scare at the 32nd minute as Robinho jinked between two defenders and passed the ball to Luis Fabiano, who flicked it to Kaka. The Real Madrid midfielder wasted no time to curl a shot to an upper corner of the net, which was saved by Stekelenburg.
At the stroke of halftime, Maicon forced a fully stretched save from Stekelenburg.
The Dutch returned to the same footing with the five-time champions thanks to Melo's own goal at the 53rd minute.
Inter Milan midfielder Wesley Sneijder curled a left-footed cross from the Dutch right and Julio Cesar, arguably the best keeper in the world, couldn't have a hand on it and the ball clipped the top of Melo's head before flying into the net.
At the 65th minute, Kaka cashed in on a poor clearance by Andre Ooijer and side-footed narrowly wide from 15 meters.
Three minutes later, the Dutch jumped ahead as a near-post corner from Robben was flicked on by Dirk Kuyt and Sneijder knocked an unmarked header in from close range.
Brazil were reduced to 10 men in the 75th minute after Melo stamped on Arjen Robben who was already on the ground. Japanese Referee Yuichi Nishimura showed Melo a straight red card.
At the 84th minute, Sneijder's shot was saved by Julio Cesar, while at the other end Kaka survived a tackle but saw his effort deflected by Andre Ooijer.