BEIJING, July 4 (Xinhua) -- Authorities in different fields, as well as local governments around China, have been engaged in implementing the central authorities' strategic plans for the far western Xinjiang Uygur Autonomous Region to achieve what authorities have described as leapfrog development and lasting stability.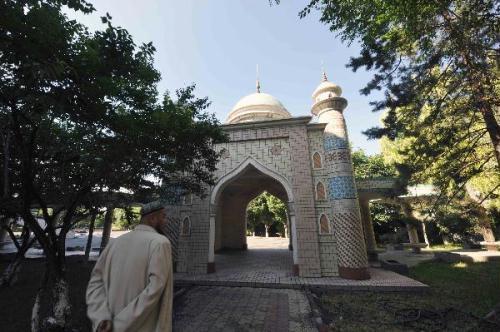 A working staff walks at the Xinjiang Islamic Scripture College in Urumqi, capital of
northwest China's Xinjiang Uygur Autonomous Region, June 26, 2010. High school graduated
students aged 18 to 25 across Xinjiang will be enrolled in the college, giving lectures
in both Ugyur language and Arabic. About 70 percent of the classes given are religious
ones. Every students in the government-funded college will get a monthly dining subsidy
of 120 RMB. Graduates of the college will receive a religious bachelor's degree and serve
in mosques and Islamic associations across the region.(Xinhua/Zhao Ge)
The following are some key facts about China's efforts over the past month since the central work conference on Xinjiang's development concluded on May 19:
-- In late May, the Ministry of Culture decided to launch several projects to strengthen the cultural heritage protection and cultural market supervision and boost the culture industry in Xinjiang.
-- Also in late May, the Ministry of Transport issued a statement jointly with Xinjiang's regional government pledging to spend more money-- which will cover 50 percent of the construction costs-- for road building in Xinjiang.
-- On June 1 the regulation on reform of resource taxes in Xinjiang, which was jointly issued by the Ministry of Finance and the State Administration of Taxation, took effect, marking Xinjiang as the first region in China to begin such reform.
The regulation provides a shift to taxing crude oil and natural gas by price, rather than volume. The reform aims to raise local revenue for the resource-rich Xinjiang.
-- From June 9 to June 12, officials of central governmental departments, including the Ministry of Science and Technology, the Ministry of Commerce and the National Development and Reform Commission, as well as officials of the China Development Bank, visited Xinjiang to inspect the development of local industries.
Related stories