WASHINGTON, June 4 (Xinhua) -- U.S. capital Washington saw a flurry of activities Sunday on the July 4 Independence Day, as people headed to the streets for the traditional parade and fireworks.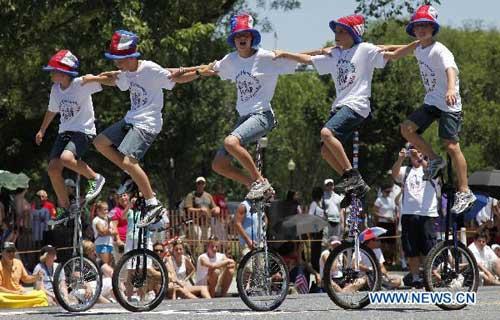 People perform stunt during the Independence Day parade in Washington D.C.,
capital of the United States, July 4, 2010. The United States celebrated its
234th Independence Day on Sunday. (Xinhua/Zhang Jun)
Since the early hours on Sunday, crowds have been seen along Constitution Avenue, traditional route for the Independence Day parade and other activities.
In the morning, the National Archives hosted its traditional celebration, featuring reading of the Declaration of Independence by actors impersonating Thomas Jefferson, John Adams and Benjamin Franklin, who drafted the document in 1776.
Across the street to the National Archives, people gathered on the national mall grounds in front of the Smithsonian for the annual folklife festival, with this year's festival offering performances and foods from Asian Pacific American culture and Mexico.
But the highlight of the day is the parade. A staple of the American National Day festivities, the parade started at noon amid waves of applause. The long queue was guided by police motorcycles, cavalry and military corps and was followed by performers from civilian groups, minority communities, schools and other groups. Dances and drum beats turned the Constitution Avenue and even the entire capital into an ocean of jubilance.
Washington is seared by scorching sun on Sunday, as the temperatures reaches 35 degrees Celsius during the day. Young people rushed to cool off inside a shower tent near Constitution Avenue after participating in the parade.
After the parade, the focus of the capital is turned to the west lawn of the U.S. Capitol in the afternoon, where "A Capitol Fourth" concert kicked off at 3 p.m. The concert featured country singer Reba McEntire and Chinese pianist Lang Lang.
As the sun gradually began to set over the Potomac River, people began to gather at the National Mall and at the Iwo Jima Memorial in Arlington, Virginia, just across the river from the DC. After the sun sets, a fireworks display is to light up the Washington skyline.