BEIJING, July 5 (Xinhuanet) -- Glancing over the menu of practically any German restaurant often inspires a similar set of reactions, from giggles at botched pronunciation to resigned sighs of defeat from vegetarians.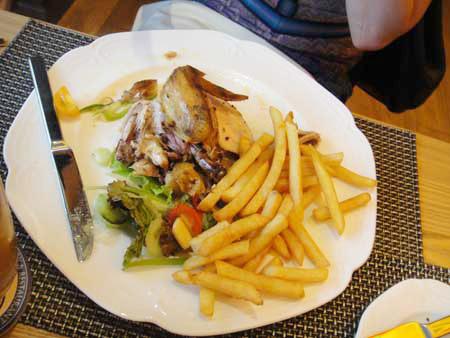 (Photo source: Globaltimes.cn)
Though newly launched Chaoyangmen eatery Hopfenstube won't do much to dispel the usual foodie fears of bland German vegetables and loads of meat, they do solid if unspectacular work on this infamously monochromatic national cuisine.
Perhaps the biggest stereotype of German food is its meat-centric approach, but in this city of unabashed carnivores, Hopfenstube probably won't lose much business for hewing the usual line. Still, it could benefit from a slightly greener tinge - say along the lines of the tomato-and-eggplant boiled potatoes dish at Schindler's Tankstelle - considering that not even the salads at Hopfenstube are vegan-friendly.
The overall ethos here is big, big and big: With enough space for half the German army and a brewery not only on-site but in the middle of the dining area, they're clearly positioning themselves as a destination for all-night large-group lager fests. Thankfully, the alcohol selection won't disappoint, with three house brews and a selection of beer cocktails that look like absolute carb-bombs but are still a refreshing change from the usual dull offerings.
We went for one of each of the house beers -- a lager, a dark and a wheat, none of which deviated terribly from the standard beer tropes, though the wheat had a resoundingly fruity flavor, almost like bubblegum. For the meal, we started with Erdapfelsuppe, a creamy potato soup with sausage that, while tasty, needed to be at least twice as big to warrant its 35-yuan price tag. Two of our dining party (the herbivores, natch) settled on the restaurant's 38-yuan soup-salad-bread lunch buffet, all decent enough but sorely lacking in any kind of distinguishing features.
Thankfully, the main dishes fared quite a bit better. At a decent 45 yuan for a half order, the pork knuckle's chunks of slow-roasted purple meat sheltering under a fatty canopy of crispy crackling didn't disappoint its gluttonous masticator, while the Nuremberger sausage was decently tender, if a bit gummy (though at 76 yuan, wildly overpriced).
The crispy grilled chicken with French fries (45 yuan for a half order) was moist and well-cooked but could have benefited from a serious run through the spice fields a few more times, as it was sadly flavorless.
(Source: Globaltimes.cn)
Editor:Yang Jie |Source: