WASHINGTON, July 5 (Xinhua) -- Higher concentrations of clusterin, a protein in the blood plasma, appears to be associated with the development, severity and progression of Alzheimer's disease, according to a report in the June issue of Archives of General Psychiatry.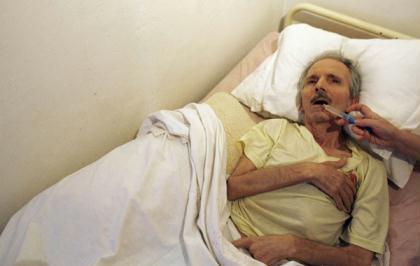 Alzheimer's disease patient Carlos Alberto Henriques, 65, drinks water
through a syringe with the help of his wife Maria Elvira Boavida (unseen)
in their house in Lisbon September 15, 2009. (Xinhua/Reuters File Photo)
Individuals with Alzheimer's disease display several findings in their blood and cerebrospinal fluid that may reflect neuropathological changes, according to background information in the article. For instance, in cerebrospinal fluid, individuals with Alzheimer's disease have lower levels of amyloid-beta peptides and higher levels of total and phosphorylated tau concentration, which reflect the formation of hallmark plaques and tangles in the brain. Similarly, numerous articles have suggested that levels of certain metabolites and proteins in the plasma might represent responses to brain changes in Alzheimer's disease, but none have been replicated.
Madhav Thambisetty, of Institute of Psychiatry, King's College London, and colleagues used a combined proteomic and neuro-imaging approach to identify plasma proteins associated with Alzheimer's disease pathology. Participants in two studies -- some with Alzheimer's disease, some with its precursor mild cognitive impairment and some with no dementia -- underwent standardized clinical assessments and brain imaging scans. Their blood plasma was then assessed for proteins that may be associated with Alzheimer's disease.
Based on findings of two "discovery phase" studies in 95 patients, one protein, clusterin, appeared to be associated with atrophy of the hippocampal region of the brain and with rapid progression of cognitive decline.
The researchers then studied clusterin levels in all 689 participants (including 464 with Alzheimer's disease) and found an association between higher plasma levels of the protein and severity of disease, rapid clinical progression and atrophy in the brain area known as the entorhinal cortex, which plays a role in memory. In addition, increased clusterin levels in the plasma were associated with having more amyloid-beta -- which forms the brain plaques associated with Alzheimer's disease -- in the brain's medial temporal lobe.