BEIJING, July 5 (Xinhua) -- Premier Wen Jiabao said here Monday that China regards India as an important strategic partner of cooperation.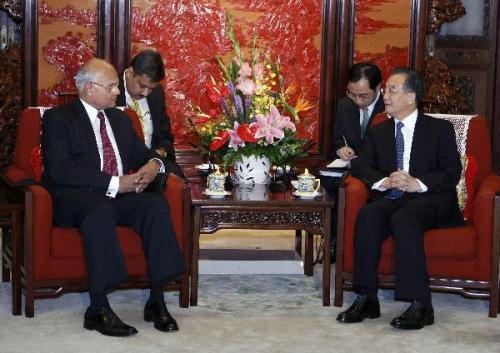 Chinese Premier Wen Jiabao (1st R) meets with visiting Indian prime ministerial
special envoy Shiv Shankar Menon (1st L), who served as Indian National Security
Advisor, in Beijing, capital of China, on July 5, 2010.(Xinhua/Liu Jiansheng)
"We will work with India to maintain high level visits and take care of each other's core interests and major concerns," Wen said when meeting visiting Indian prime ministerial special envoy Shiv Shankar Menon.
Wen also pledged to enhance dialogue and cooperation with India to benefit the two peoples, and make joint efforts to promote world peace and common prosperity.
Hailing the 60-year diplomatic ties between China and India, Wen said the bilateral relationship has matured well, with deepening mutual political trust and remarkable achievements in cooperation in various sectors.
The two countries have also reached important agreements and made sound coordination in coping with the international financial crisis, climate change and other major issues, Wen noted.
Wen said China and India, as neighbors and large developing nations with largest populations, enjoy not only profound historical and cultural origins but also broad common interests.
"A healthy, stable and dynamic China-India relationship is of far-reaching significance to the two nations, Asia and the whole world at large," he said.