BEIJING, July 6 (Xinhaunet) -- A top grade office tower called Wheelock Square has recently been completed in Puxi's Jing'an district in Shanghai.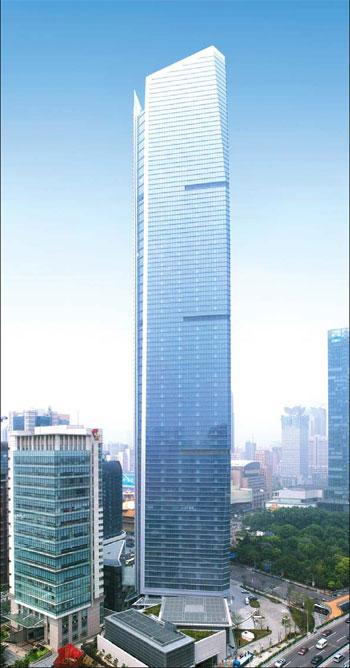 The 270-m tall Wheelock Square is now the tallest
commercial building in Puxi area, Shanghai.
(Source: China Daily)
Dave Siu, general manager of estates management (Shanghai) at Wharf China Estates Limited, a subsidiary of Wharf Holdings Limited said: "We have a long and proud history in Shanghai and are very pleased to be developing such a prominent site. Wheelock Square, a world-class property with world-class management, will enhance Shanghai's dynamic skyline and will redefine the landscape of this vibrant business district. The investment we've made in this project reaffirms our confidence in the business opportunities in China."
Designed by Kohn Pedersen Fox, the 270-m tall Wheelock Square is now the tallest commercial building in Puxi.
It has already captured the attention of numerous multi-national companies and has received interest from tenants keen to secure space in the building via the appointed Joint Marketing and Leasing Agents, CB Richard Ellis and Jones Lang LaSalle.
Committed tenants of Wheelock Square include the MNCs such as Bristol-Myers Squibb, Mitsui, Shiseido, Coach, LG Chem, Conde Nast and Clarkson Asia, as well as the Industrial and Commercial Bank of China. Among them, four are whole-floor tenants and one committed to three whole floors.
Anthony Couse, managing director of Jones Lang LaSalle (Shanghai), said: "Puxi office market is on the road to steady recovery. Many multinationals have started to re-evaluate their expansion plans on the back of a robust economy in China. It is also reflected by the increased level of enquiries in Wheelock Square."
The building has 46 typical office floors and 4 highly specified trading floors.
Tim O'Connor, senior director and head of office services at CB Richard Ellis (Shanghai), noted that office tenants are now placing greater emphasis on the quality and flexibility of office accommodation instead of rental cost alone when making decisions.