Switzerland - A pair of sturdy goats led 10 cows with regional and national flags tied to horns and bridles up toward the mountains this week at the launch of a new Swiss eco-project.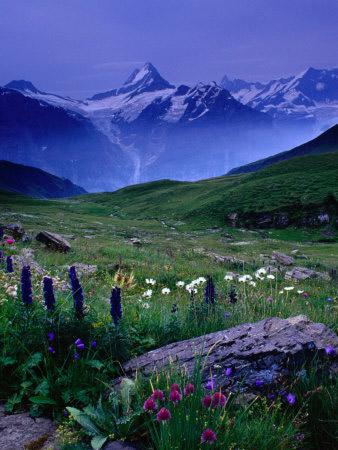 Alpine Flowers of Switzerland
Behind the animals came a silent line of 60 brightly colored small cars, which then sped off -- equally silently -- toward the nearest Alpine pass.
"I think just one of those cows made more noise than all of us put together," said bemused Swiss tourism official Federico Somarruga, at the wheel of one of the two-seater automobiles.
The occasion was the launch in central Switzerland of a green tourism project, dubbed Alpmobil, to promote the use of battery-driven electric vehicles -- EVs to the cognoscenti -- by summer visitors to the area some 100 km (63 miles) southeast of the Swiss capital Bern.
The area's plentiful electricity supplies, created by harnessing the power of mountain waters through reservoirs and dams, have been tapped to provide over 20 battery charge-points serving up, Alpmobil says, totally green energy.
Alpmobil, whose sponsors include the regional hydropower giant KWO and cantonal governments and climate research authorities, has acquired the 60 "Think" cars from the pioneering Norwegian EV company of the same name.
They will be on hire between July and September at hotels, garages and railway stations for 60 Swiss francs (US$54) a day across the area's Goms and Haslital regions and Alpmobil offers booking on its so-far only German language website -- www.alpmobil.ch.