Fans whose teams have dropped out of the World Cup are finding there is plenty to keep them in South Africa even after their soccer dreams die.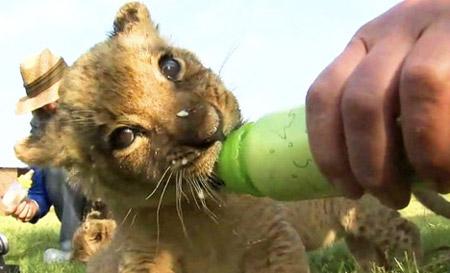 Milk from bottle was suck by a cute and adorable baby lions
From cuddling baby lions to diving with sharks, South Africa has a myriad of attractions and is eager for football visitors to sample the goods in the hopes that their enthusiastic tales when they get home will help boost tourism.
Chris Dorsey and his friends began their three-week tour in Johannesburg, South Africa's city of gold, before viewing wild life in Kruger, the country's top game park.
"We saw leopards, that was incredible... Would we have come to South Africa if it wasn't for the World Cup? Maybe, one day, but this definitely convinced us to come explore now," the American, from Austin, Texas, told Reuters.
South Africa spent about 40 billion rand ($5.21 billion) on the one-month event, hoping to attract millions more tourists in the next few years and reverse negative advance reporting that painted it only as ridden with violent crime.
"You always hear about how dangerous this country is, but I've had no problems at all," said Tom Flynn, a 19-year-old England fan, before jumping 216 meters from the world's tallest bridge bungee jump outside Plettenberg Bay, clad in an England wig and a flowery dress.
Thieves have targeted players and journalists during the tournament, but so far it has been free of everything but minor crimes, which in most cases have been swiftly and sternly dealt with by police and special courts.
Up to 370,000 foreigners were expected for the soccer spectacular, most visiting the continent for the first time.
With an expensive long-haul flight between South Africa and the most fervent soccer fans in Europe and South America, numbers are way down on Germany in 2006. But that was expected and authorities are convinced the benefits will be big.
"We couldn't get better advertisement for the country," said Roshene Singh, South Africa Tourism's Chief Marketing Officer.
"Many people who are leaving are going to recommend South Africa as a holiday destination and they also may come back."
Experts say the word-of-mouth impact could be worth more than many expensive advertising campaigns.