BEIJING, July 6 (Xinhaunet) -- As fans from across the globe get ready to bid adieu to the FIFA World Cup, many Chinese merchants are getting ready to cash in on the business boom resulting from the soccer extravaganza.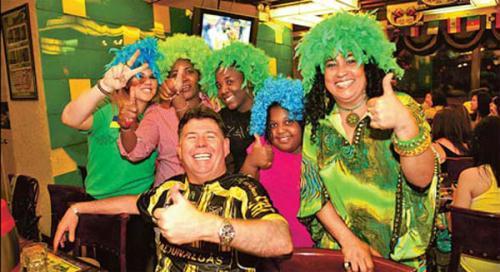 Luciano Tavares and his family from Brazil watch the FIFA World Cup broadcast at a
Latin American bar in Beijing.(Source: China Daily/Guan Xin)
Be it the ubiquitous vuvuzelas, flags or the colorful wigs on the heads of fans, there was a distinct Chinese presence in the stadium in every match.
In Xuchang, a city that is a three-hour drive from the renowned Shaolin Temple, in Henan province, the FIFA World Cup has been a hair-rising success for wig makers.
Xuchang has long been a trading center for hair as Jewish merchants begun purchasing human hair from the area nearly 100 years back. The hair found its way to Europe and was transformed into wigs for court judges and actors on stage and was sometimes even worn by European ladies at elegant balls.
Today there are over 100 companies in Xuchang making products from hair. But none as big or important as Henan Rebecca Hair Products Co Ltd, the largest wig maker in the world with a 15 percent market share.
Henan Rebecca considers its African experience as an eye opener. The company expects sales in Africa to rise by 30 percent this year, thanks to soccer fans' enthusiasm for wearing wigs while cheering their favorite teams.
The company is now looking to extend its success in other emerging markets. This will help the company offset the sales decline in North America and Europe.
The Shanghai-listed company designed more than 20,000 wigs with colors of national flags in February and sold out the entire range within one week of it reaching the market, said Lu Xinyao, vice-general manager of the company.
The World Cup wigs were priced 30 percent higher than other wigs sold in Africa, and were sold to an authorized wig purchaser for the 2010 FIFA World Cup Organizing Committee in South Africa, Lu said.