By Daily Mail Reporter
If you are going to take time out of your busy schedule to enjoy a long and languorous bath, then you might as well do it in style.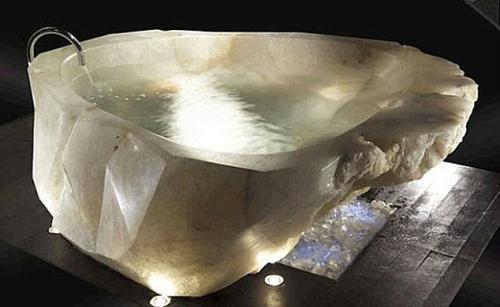 Ultimate bath time: The white crystal bathtub, 7ft long by 2ft deep, has been left
rough in places to highlight the crystal's natural beauty
This crystal bathtub is carved from a single block of the purest white rock crystal, quarried in the Amazon region of Brazil.
It is 7ft long and 2ft deep, and costs £530,000 for the bather who has everything.
The tub, which was previously shown in Milan, will be on show at Harrods in Knightsbridge until the end of July.
But for those who are thinking it is a one-of-a-kind bathroom accessory, it does have a sibling - cut from the same enormous ten-ton block of flawless crystal.
The block was discovered in 2006, extracted and transported to Italy intact.
The first tub was snapped up by a Russian magnate in 2008 for an eye-watering £567,502.
Both were sculpted with diamond cuts and left partially rough to expose the natural beauty of the crystal - and each is unique in its design.