BEIJING, July 6 (Xinhua) -- Hundreds of middle school students from Nanjing City, east China's Jiangsu Province, came to the Memorial Hall of the Chinese People's War of Resistance Against Japanese Aggression in Beijing Tuesday to mourn martyrs killed in the war.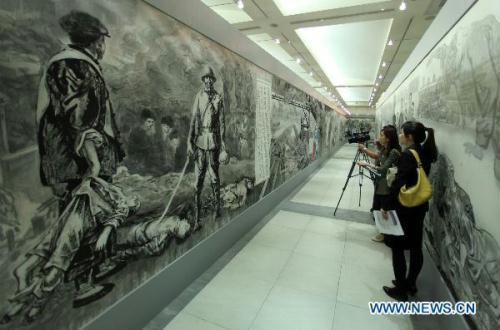 A journalist takes video for a scroll painting describing China's Anti-Japanese
War (1937-1945) in Taipei, southeast China's Taiwan, on July 6, 2010. The
800-meter-long scroll painting, created by painters from the Chinese mainland,
will be exhibited in Taipei from July 7 to 31.(Xinhua/Fei Maohua)
"We came here to keep the past firmly in mind and cherish the present peace," said a student from the Second Foreign Language School of Nanjing.
Temperatures in most parts of Beijing had risen to more than 39 degrees centigrade but even so the memorial hall was crowded with visitors from all over the country.
The full-scale anti-aggression war started on July 7, 1937, when the Imperial Japanese Army bombarded the town of Wanping in suburban Beijing and advanced on the Lugou Bridge. The No. 29 Nationalists Corps fought hard to resist the siege, marking the official start of an eight-year resistance war.
The Chinese resistance played a decisive role in inflicting heavy casualties on the Japanese. The Chinese people paid dearly for the victory, with an estimated 35 million casualties, including military and civilian, dead and wounded.
The memorial has received more than 15 million visitors since it opened in 1987, said Li Zongyuan, deputy curator of the memorial hall.
Related stories
Editor:Du Xiaodan |Source: Xinhua