FUZHOU, July 7 (Xinhua) -- The death toll from a Tuesday residential building collapse in east China's Fujian Province has risen to 3, with one of the 10 survivors being treated in hospital still in critical condition, rescuers said Wednesday morning.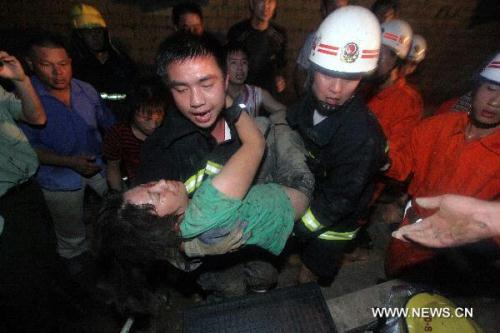 Rescuers carries out a survivor from the site of a building collapse accident in
Cangshan District of Fuzhou, capital of southeast China's Fujian Province, July 6,
2010. At least one person died after a 3-story brick-concrete residential building
collapsed here Tuesday and buried a dozen in the wreckage, rescuers said. By
Tuesday midnight, rescuers have pulled out 10 survivors and one body from the
debris. The search is continuing for the last one who is still missing.
(Xinhua/Zhu Xiaohang)
Local government officials said the 3-story brick-concrete building collapsed at 6:30 p.m. Tuesday in Cangshan district of Fuzhou, capital of Fujian, trapping 13 under the rubble. Previous count put the figure at 12.
The local government sent more than 100 rescuers, armed with life-detecting equipment and sniffing dogs, to rescue people trapped.
The search ended at 1 a.m. when the body of the last trapped person was pulled out of the wreckage.
Among the survivors, one person is reported as critically injured. The others are in stable condition.
Authorities have launched a probe into the incident.