BEIJING, July 7 (Xinhuanet) -- Apple has begun to ban some of its applications on its iTouch and iPhones after a bug was found that customer accounts drove the apps to the top for e-books, according to Financial Times on Wednesday.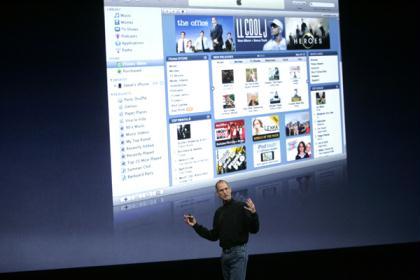 Apple Inc CEO Steve Jobs discusses his company's "iTunes" product at
Apple's "Let's Rock" media event in San Francisco, California September
9, 2008. (Xinhua/Reuters File Photo)
Apple users complained that some developer had let them pay a 100-dollar-extra fee for their apps, others said their access was denied when using the credit card to pay the exact amount.
Apple banned apps developed by a Vietnamese company Nguyen for violations of fraudulent purchase patterns.
The leakage is one of the most dramatic violations in Apple's iTunes Store for downloading songs, videos and apps.
Apple suggested that affected users change their passwords to prevent being stolen. "If your credit card or iTunes password is stolen...we recommend that you contact your financial institution and inquire about canceling the card," said Apple.
Editor:Zheng Limin |Source: Xinhua