JERUSALEM, July 6 (Xinhua) -- The jury is still out following Tuesday's meeting at the White House between U.S. President Barack Obama and Israeli Prime Minister Benjamin Netanyahu.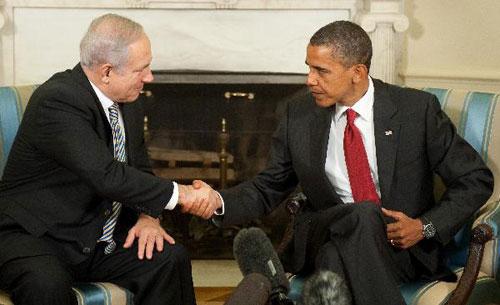 U.S. President Barack Obama(R) meets Israeli Prime Minister Benjamin Netanyahu
(L) in the White House on July 6, 2010.(Xinhua/AFP)
Both sides described the parley as extremely warm, however, Pinhas Inbari, a senior researcher at the Jerusalem Center for Public Affairs, told Xinhua he thought the body language told a very different story.
"From their bodies and their eyes, I felt as though they did not have a good meeting. They just didn't come out looking satisfied," he said.
PREDICTABLE TOPICS
While it will take hours or days for leaks to reach the media to give an indication of what really went on behind closed doors, the leaders did offer their general views on the issues of the day at a news conference immediately after their private talks.
The U.S. president and his guest both spoke of the special relationship between the U.S. and Israel and focused their comments on Iran and the Palestinian-Israeli conflict. It was widely assumed ahead of time that these would be the agenda toppers.
On the Palestinian front, Netanyahu called for an early commencement of direct negotiations with Israel's Palestinian interlocutors. At the moment, the parties are involved in indirect talks, with Obama's special envoy George Mitchell shuttling between Jerusalem and Ramallah, which are just a few miles apart.
The Palestinians insist they do not want the negotiations to be conducted face to face until such time as Israel has proved it is serious about the process.
The main indicator will come in September when Israel's 10- month construction freeze in West Bank settlements comes to an end.
Netanyahu has publicly stated building work on Jewish homes will resume in September. That statement was aimed at satisfying his hawkish coalition partners at home. However, the Israeli premier is well aware that the Arab League has said it will withdraw its support for the process if and when the construction freeze is terminated. At that point the Palestinians would walk out on the talks.
As a result, Obama was cagey when answering a question regarding the building moratorium. He said that while he understands Israel's desire to move to the direct-talks phase, the Jewish state will first need to demonstrate some confidence- building measures. Analysts believe that includes an extension of the freeze.
"If Netanyahu does not extend the settlement freeze, there will be a serious crisis with the U.S.," according to Jonathan Rynhold, a senior research associate at the Begin Sadat Center for Strategic Studies near Tel Aviv.
In September, or perhaps a couple of months later at most, Netanyahu will have to opt for one of three choices, Rynhold told Xinhua, he will have to put down opposition within his current coalition, alter the composition of the government by removing hawks and bring in moderate parties or he will have to call a general election.