Shanghai Disneyland may not be opening for another three years yet, but the resort's all-important publicity machine is already being cranked into top gear.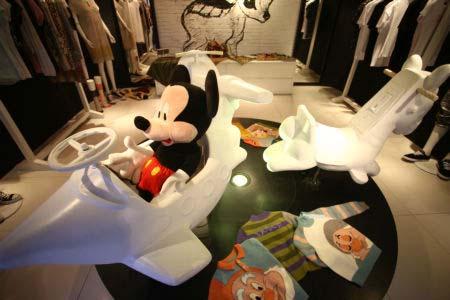 Disney comes to town. (Photo: Mao Jiayu)
And one of the first ventures to capitalize on what officials hope will make Pudong the unlikeliest of holiday destinations is Clot established by the Chinese-Canadian singer and actor Edison Chen. The independent clothing retailer boasts it launched the world's first Disney-inspired concept store "Man is in the Forest" which opened in Julu Road on June 26.
Staff member Zeng Zhaohui spoke to the Global Times about the concept which will include items designed by Chen himself for brands such as Nike, Adidas and Levi's.
"We've got 50 white Mickey Mouse dolls and we're looking for 50 artists to paint them. They will then be put on sale as limited editions," he said. According to Zeng the grand opening will feature 10 denim jackets created by the iconic Los Angeles fashion brand DRx. "They are all handmade and only use old, worn denim. And the patterns on the jackets have all been handsewn."
Clot has also designed a number of products for Disney such as T-shirts with the Clot logo made out of Mickey Mouse heads and a replica of the Skull Tee worn by the character Sid from Toy Story. The store plans to introduce limited editions of seven new T-shirt designs on a monthly basis.
"Man is in the Forest" reveals Disney's ambition to move further into the fashion world after collaborating with Stella McCartney, Tom Binns and Dolce & Gabbana previously.
Walt Disney himself once said that if you focus only on children business would soon be over, and adults are just "grown-up kids" after all. The contract between Disney and Clot however is initially set to only last a year, as a way of testing the market. "But every country will only ever have one 'Man is in the Forest'," said Zeng.
The store is also exhibiting some rare collectible Disney clothing items such as children's woolen sweaters featuring characters from the studio's classic film, Snow White and the Seven Dwarves. However, these collections are not for sale.
Clot was established by Chen in Hong Kong along with his friend Kevin Poon in 2003. Under the brand names of ACU and Juice, the company now also has stores in Chinese Taipei and Kuala Lumpur.
Editor:Yang Jie |Source: China.org.cn