BEIJING, July 7 (Xinhua) -- Chinese Premier Wen Jiabao and visiting New Zealand Prime Minister John Key agreed here on Wednesday to further bilateral cooperation in diversified areas including new energy and food security.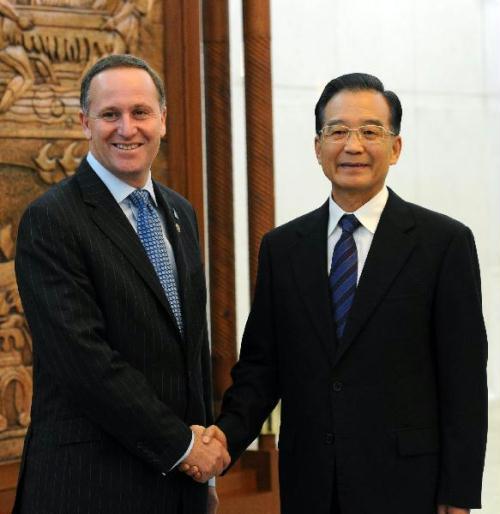 Chinese Premier Wen Jiabao (R) meets with New Zealand's Prime Minister John Key at
the Great Hall of the People in Beijing, capital of China, on July 7, 2010.(Xinhua/Rao Aimin)
In their talks at the Great Hall of the People in Beijing, Wen hailed the progress of China-New Zealand relations over the years, saying the strengthening of bilateral ties has contributed to the harmony and prosperity of the Asian-Pacific region.
He called on the two countries to cement trust and coordination on the basis of respect, mutual benefits and seeking common grounds while putting aside differences.
Wen extended a warm welcome to John Key whose trip to China will take him to Shanghai to attend the New Zealand Pavilion's "National Day" at the World Expo. He hoped Key's tour would further strengthen understanding and friendship between the two peoples.
In response, Key told Wen his country attaches great importance to the Shanghai Expo and he is glad that he would be at events marking his country's "National Day" at the Expo.
Wen and Key agreed the two sides have experienced rapid growth of cooperation in trade, technology and food security, pledging to seriously implement the bilateral Free Trade Agreement (FTA) to explore cooperation in diversified fields including new energy, environmental protection, the green economy and food security.
Related stories