NEW YORK, July 8 (Xinhua) -- Ten Russian spy suspects in New York will be deported to Russia immediately after Russia agreed to release the prisoners and their family members, U.S. officials said Thursday.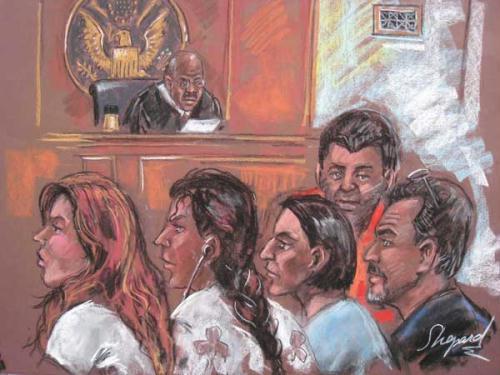 This drawing shows five of the 10 arrested Russian spy suspects in a New York
courtroom. (Xinhua/AFP Photo)
It marks one of the largest spy swaps between the two countries since the Cold War.
The Russian Federation has agreed to release four individuals incarcerated in Russia for alleged contact with Western intelligence agencies, the Justice Department said Thursday.
Meanwhile, 10 alleged Russian spy suspects entered guilty pleas in federal court in New York as part of a plea deal with the U.S. government.
All the defendants gave their true names and birth dates in court and they will be deported later tonight, according to the officials.
Editor:Zhang Jingya |Source: Xinhua